The Crete Branch of the MGS
Past Events 2017 2015 2014 2013 2012 Older
December 2016
Our annual Pre-Christmas get-together at Jane and Roger Newbery's house and garden, Kokkino Chorio, Apokoronas
Given that 2016 was the 10th Anniversary year of the formation of our Crete Group within the MGS, we celebrated this with a bring-and-share festive buffet and a special birthday cake made by Rosemary Thomas.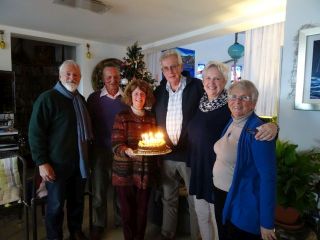 Celebrating 10 years of MGS activity on Crete.
Left to right: Clive Whittington, Ron Fitch, Valerie Whittington, Alan Thomas,
Rosemary Thomas, Renee Fitch – from the original group
Valerie gave a presentation about our membership and the variety of activities undertaken over the years, many of which can be read about on this web page.
She described how a small number of people first got together in 2006, a disparate group that had one thing in common – a love of gardening. All of them had joined the MGS independently. At this meeting it was decided to set up a group. Most of us were tackling new gardens, often on plots of land that might previously have been an olive grove or an over-grazed field and that had elements left over from the building sites of our new homes. As expatriates we found Mediterranean gardening a new challenge, no matter how much experience of gardening we'd had previously. Later that year, Jennie Gay (author of the book many of us were using at the time, 'Greece, Garden of the Gods' and a weekly gardening column in the Athens News) came with her partner, Piers Goldson, and talked about their experiences of working at Sparoza, the MGS garden in Athens. They gave lots of advice on choosing and working with mediterranean plants for the garden. Our activities at that time consisted of visiting each other's gardens and supporting one another with cuttings, seeds and advice. Bob Wright was our co-ordinator.
In the autumn of 2009 Caroline Harbouri, the MGS President at that time, asked Valerie and Clive if they would consider organising the MGS's Annual General Meeting in Crete. She visited us to talk to the members; the enthusiasm of all at this meeting persuaded her and the AC (Administrative Committee) to go ahead. Hence Valerie and Clive were given the task of organising the AGM for 2010. At this time Valerie also took over the running of our group. The AGM involved a great deal of planning: trips to Heraklion to meet with the Cretan professional conference organisers, choosing and visiting venues, hotels, places to visit and arranging for a variety of speakers. The whole event was a success and attracted 120 members from as far afield as California and Australia. A particular highlight was an excellent talk, also open to the public, by Oliver Rackham entitled The making of the Cretan landscape, held in the Arsenale, in Chania. Over 200 people attended.
Valerie pointed out that we have always looked beyond our own branch. In 2009, four members attended the AGM in Cyprus and in 2011 Pam Dunn and Valerie went to the one held in Mallorca. The 2012 meeting was held in Australia, too far for any of us from Crete to participate, but in 2013 five people from our branch attended the Athens AGM. 2014 saw six of us in Menton, France. Two of us attended the recently held AGM in Athens in October 2016 when a new administrative committee was elected.
Although the MGS has English as its lingua franca, here on Crete we have had links with MAIC (the Mediterranean Agronomic Institute of Crete), PPFF (the Park for the Preservation of Flora and Fauna), both in Chania, and the Botanical Park on the Omalos road. Donations from the main body of the MGS have been made to a former mosque in Rethymnon, now a museum of Cretan Natural History, to develop their traditional garden and to PPFF (The Park for the Preservation of Flora and Fauna) to develop an area of seashore plants.
Currently, the MGS Crete Branch is made up of around 40 members across the island. These originate from several different countries including Britain, France, Germany, Greece, Holland and Norway. This mix adds further interest to the group as background and gardening experiences are shared in our (largely) adopted new or second homes. Branch numbers remain consistently healthy for the size of the island so that most activities have 20 + participants. One aspect that keeps the group fresh is that some of our members live elsewhere for part of the year although they have gardens in Crete. There is a steady nucleus, but each event has a different mix, always welcoming new faces and guests.
Crete is a large island so that meetings and events tend to be in the area of Apokoronas where the majority of members have their gardens, although we have had very successful visits to the south and east visiting members' gardens and their recommended local attractions. Also, members do travel to Apokoronas to join in events when they can for something that has particular appeal. We are always delighted when an offer to visit further afield is made, and we welcome members from other countries who are on holiday here.
Feedback following attendance at the MGS Annual General Assembly in Athens and news of the draft programme for 2017 was given.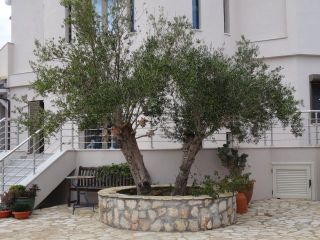 At Jane and Roger's, a new entrance with a recently planted old olive
Plenty of time was given for discussion and to look around Jane and Roger's amazing garden set in its challenging wild and windy location. Jane told us about her more recent experiences and developments to the garden since some of us visited it three years ago.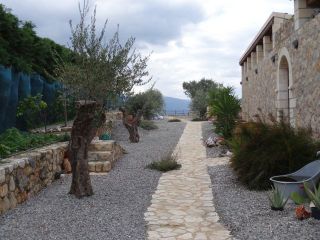 Creating an avenue of rescued olive trees
Most notably they have bought in several old olive trees, some of which are trees rescued from building sites by a local garden centre. These provide a different focus and interest as previously the site was predominantly planted with low-growing species in keeping with its natural habitat. All of the olives are fairly old and gnarled, making potentially lovely features.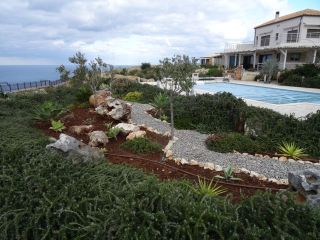 New footpaths wind their way throughout the rockery garden and surrounds to provide easier access for weeding or simply for strolling through the garden to enjoy the planting at closer proximity. Much rosemary has been removed after having succumbed to the lavender beetle.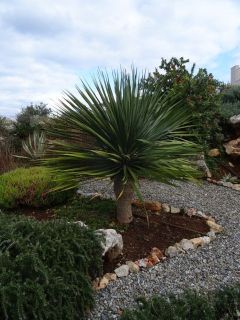 Two splendid specimens of Dracaena make a statement within the garden
A full report of the original visit to Jane and Roger's garden, with more photographs and providing detailed background of the garden's design and development can be seen by scrolling down this webpage to September 2013.
Valerie thanked Jane and Roger for their hospitality, Rosemary Thomas for the birthday cake and everyone for their continuing support and enthusiasm.
September 2016
Illustrated talks by Manoj Malde: 'The Winton Beauty of Mathematics Garden' at the 2016 Chelsea Flower Show and 'The ten highlights of my day at the Chelsea Flower Show' by Rosemary Thomas.
It gives me great pleasure to write the report of this evening's talk, which was one of the most interesting I have attended. It was illustrated throughout with photographs and video clips.
Part one 'The Winton Beauty of Mathematics Garden'
Around 30 of us listened, spellbound, as Manoj told us of the intricacies involved in building a garden for the 2016 Chelsea Flower Show. The garden was designed by Nick Bailey (head gardener at the Chelsea Physic Garden) and sponsored by Winton Asset Company, which had approached Nick to design a 'Main Avenue' Garden of approximately 20 x 10 metres. It involved a number of workers in a variety of roles; Manoj led the planting team.
It was a mathematical garden, based around the teachings of Leonardo of Pisa, known as Fibonacci – an Italian mathematician who in 1202 wrote the sequence that bears his name. In mathematics, the Fibonacci numbers are the numbers in the following integer sequence, characterised by the fact that every number in it is the sum of the two preceding ones (1-1-2-3-5-8-13-21 and so on).
Fibonacci sequences appear in biological settings in two consecutive Fibonacci numbers, such as branching in trees, arrangement of leaves on a stem, the fruitlets of a pineapple, the flowering of sunflowers and, an uncurling fern and the arrangement of a pine cone. All this is a reflection of the 'golden spiral' created by drawing circular arcs connecting the opposite corners of squares in the Fibonacci tiling. The nautilus shell is perhaps one of the best recognised examples. Fibonacci was Nick Bailey's key for the garden design; this is illustrated in the plan below (with permission from Will Tubby).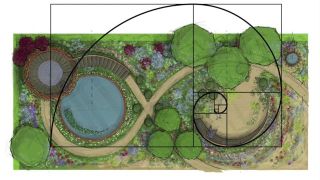 We expect the gardens at Chelsea to be immaculate and realise – should we stop to consider – how very difficult it must be to have everything perfect in time for the judges' visits just before the show opens in June. But all the planning and preparation . . .
Nurseries were visited and plants ordered from Italy, Belgium, Spain and Germany, and these all had to be delivered and planted within a very short time frame. There were 17 plant hunting trips in all to choose trees, shrubs and the herbaceous stock.
For a short while all seemed to be (organised) chaos as heavy machinery – cranes and diggers – delivered the plants. Hard building of the pre-prepared fixtures was needed – cement and metalwork had been planned for and executed and now all was fitted on to the site while the largest plants were placed carefully in position. These often needed turning to ensure that they fitted precisely and looked at their best in relation to all that was around them. In fact, this applied to all the plants – even the very smallest: one group planted while the other observed and advised. The whole ground level was raised by around 15 centimetres (beneath that the ground is sterile).
The garden starts with a beautiful copper water feature based on a pine cone design. The water feature represents a seedling which extends into a copper band that winds around the garden, first in the form of a bench, then on to the banister of the stairs and finally into a planting trough that sweeps around the top of the Belvedere. The copper band was carved with Fibonacci formulae. A pool of black water, surrounded by salvias, reflected the clouds.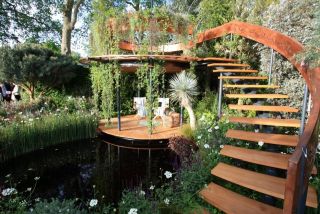 Oak decking led to a staircase with copper banding (lit from inside)
A 'fragmented' meadow at the front of the garden was so full of plants that it needed the thinnest people on the team to creep carefully through to tidy them. The planting was set in a perfect circle. Once this area was planted it was covered with Breedon gravel. Plastic spoons were used to pour small amounts of this among the plants. Manoj described how chopsticks were used to nudge and direct the gravel into tiny areas in-between Briza media, Reseda, Carex testacea, Geum 'MaiTai, Centaurea 'Jordy',Euphorbia epithymoides (syn. Euphorbia polychroma), Iris 'Kent Pride' and alliums.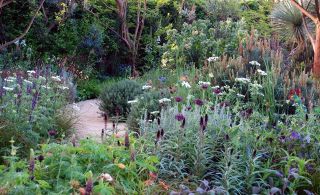 The timescale fascinated me. 'Main Avenue' gardens have 14 days on site to complete their task and after the show is over, seven to ten days to clear it and return the area to the same state as found a month or so previously (a deposit is held by the organisers to ensure this).
Every detail mattered. Three ladies were flown in from Japan, mainly to pick all the dead pine needles from the trees. On many plants separate leaves had to be cleaned with a paintbrush, others were sprayed and cleaned with cotton buds. Trunks of the Yucca rostrata were pruned to show the Fibonacci sequence (taking about two and a half hours each).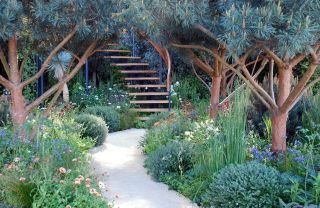 Pinus sylvestris (syn. P. sylvestris f. watereri) and Stewartia pseudocamellia
provided structure in the design
Manoj felt that this was very much a plantsman's garden, bursting with plants from the southern hemisphere and Mediterranean, some of which had never been seen at Chelsea before. He described the L system (named after botanist and Biologist Linden Mayer), who used this to describe the behaviour of plant cells and to model the growth process of plant development. This shows the way stems grow, creating near perfect heptagons in Corokia cotoneaster (wire-netting bush). Euphorbia acanthothamnos, which is indigenous to Crete, also follows this system and has the same growth pattern.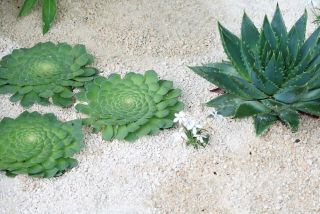 Stems grow forming near perfect heptagons
Cerinthe major subsp. purpurascens, with its small purple-blue bells and leaves with an almost blueish changeant effect provoked much interest. Aeonium tabuliforme, another fascinating form, was planted in the arid part of the garden. In their natural habitat these plants grow absolutely flat to the ground. Manoj had to plant each of them three times to achieve this perfectly. It was interesting to see Westringia fruticosa (a familiar plant to many of our own gardens here on Crete) used as beautiful cushioned forms defining the point where the paths crossed over.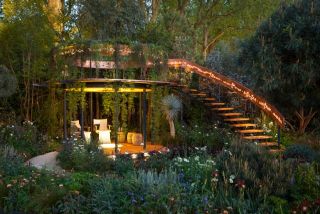 The garden lit up at night
We learned that the Belvedere was inspired by Nigella orientalis 'Transformer', another plant that Manoj said had not been seen at Chelsea before and which in his opinion is the prettiest and most delicate looking of all the love-in-a-mist varieties.
The garden was awarded a silver-gilt medal and missed out on a gold by only one point – and why? The judges decided that 'The gravel on the paths was not sufficiently compacted'. Beauty may be in the eye of the beholder but, having seen photographs of the winning garden, I cannot understand the judges' preference!
In previous years, gardens were scrapped at the close of the show, which was a terrible waste of money and effort (this garden alone cost just under a million pounds to create). Now all applications have to state what will be done with the garden. Some of these plants went to the Chelsea Physic Garden, others to the sponsor.
Part 2 'The ten highlights of my day at the Chelsea Flower Show'
After a short break, Rosemary gave a view of her ten favourite things seen at this year's show. Given its size it was impossible to talk about the whole show, thus she presented us with a cross section of 'all that is exciting to me about the show'. The point was also made that Chelsea is not just about flowers and plants, but about everything to do with gardens and gardening including decorative items and statuary suitable for stately homes as well as more humble abodes.
To illustrate this, several slides were shown of a varied range of sculptures available for sale on trade stalls, while others showed these as an integral part of a garden design. Unfortunately, within the scope of this report, only a small collection of photographs is possible.
Images from several of the show gardens were shown including the best in show, Andy Sturgeon's captured landscape garden. This had been inspired by the magnitude of geological events and highlighted the need for gardens to adapt to their environment and changing climate. This garden took ten months to design and contained 80 tons of stone and plants from all over Europe.
The Morgan Stanley Garden for Great Ormond Street Hospital impressed Rosemary with its woodland garden and outstanding sculpture of a face. She liked the calm and richness in plants of this area of woodland diversity featuring a wide range of perennials. She considered that this verdant woodland scene was designed to provide a reflective space for families of the children undergoing treatment in the hospital. The garden was to be relocated to the roof of the hospital after the show – it would be a lovely place to sit.
The L'Occitane Garden, a Provence-inspired garden, featured next with images shown of dry stream beds and stone paths and lavender fields looking out over hills and woodland. Apparently there were 300 plant varieties with a gentle stream running by an old stone hut before disappearing under a dry stone bridge. Rosemary considered this a picture post card garden.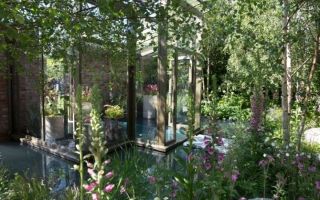 Hartley Botanic Garden
Next the Hartley Botanic Garden. The photograph above shows this as described: a lovely, restful and visually stunning garden. Featuring a glass house with potted carnivorous plants inside it. This rose out of the water and was surrounded by British native woodland plants, all inside a traditional walled garden.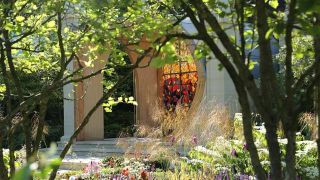 The People's Choice Award was given to God's Own Country - A Garden for Yorkshire.
The People's Choice Award was given to God's Own Country - A Garden for Yorkshire. Stained glass takes centre stage in this garden with a pool of water between the seating area and the glass, which wraps around the building on the left hand side. The glass represents the great east window of York Minster and was made by the York glaziers trust who are renovating the 15th-century east window at the Minster. The planting was inspired by the colours of the stained glass. The upper level of the garden is an area of planting celebrating the many fine woodland gardens of the county of Yorkshire. Particular mention was made of the stunning dogwood trees Cornus kousa ('Midwinter Fire') and the hydrangeas.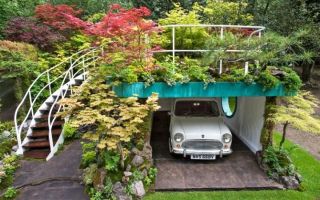 The Garden Garage
The next group of photographs shown were from the Artisan's Garden section, The Garden Garage. Visitors were invited to 'Transform your car porch! With off-street parking'. The photograph shows this two-tier structure, ground level with the garage and the roof with the garden and sitting area with tables and chairs. We all thought this was superb. The acers were beautiful and in keeping with the Japanese designer. Rosemary said that it looked as if it had been there for ever.
Other aspects shown included her favourite cactus stand by Craig House Cacti, the owners of which win gold every year for their 'most fabulous display of cacti and succulents,' all in perfect condition, as one would expect. This led her to show a range of handsome' greenhouses. While accepting that we don't need them here on Crete, she did yearn to have somewhere as beautiful in which to work and provide protection for her own renowned succulent collection during the winter.
Manoj and Rosemary spoke with such enthusiasm about their very different involvement in this year's show, demonstrating commitment, passion and love of all aspects in creating gardens – we felt privileged and inspired.
A shared supper was enjoyed by members and guests in the delightful setting of Pam and Geoff Dunn's garden in Douliana. Thank you.
Text by Clive and Val Whittington.
Photographs unless otherwise stated were provided by Manoj Malde for Part 1 and Rosemary Thomas for Part 2.
June 2016
Sara and Roger Gilding's open garden and sculpture 'The Journey of the Sun' exhibition, Kefalas
It was with great anticipation that over 20 members of our branch met to see Sara and Roger Gilding's lovely garden and enjoy the unveiling of Roger's magnificent sculptures.
The house and garden are in the village of Kefalas, high above Souda Bay in Apokoronas in the west of Crete. The garden is south-facing and enjoys magnificent views of the White Mountains. It was a beautiful day, sunny and warm with the mountains shimmering in the distance, and the garden looked fabulous.
Roger and Sara both have backgrounds in the creative arts and it shows in this garden. Roger's skills as a sculptor would soon become apparent.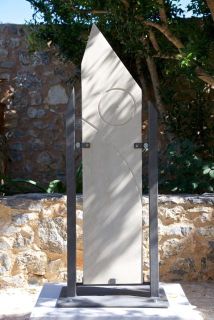 After a cooling drink, Sara gave a short talk on how they have developed their land into the garden it is now (some stories so familiar, like having topsoil delivered and then during the first winter watching it all get washed away with the rains). Terraces were built and paths laid. Conserving soil, and water, became the first task along with planting new trees to complement the existing ones and to give the garden its framework. More details about the early development of the garden, including photographs, are available on this web-page from a visit in September 2014 – scroll down to view.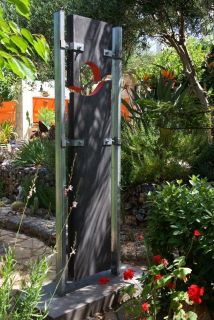 Roger then spoke about his sculptures and the idea behind designing and making them: the theme is the sun and its relationship to their garden. Roger made us all smile with tales of the logistics of having huge pieces of stone delivered, lifted over the garden wall, and then being moved around with the help of his Greek builder friend - sounds easy doesn't it!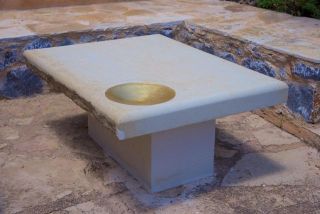 The sculptures are contemporary, each one different and all using the sun and its journey across the sky as a feature. Some are made from beautiful local stone and others cast and shaped in polished concrete.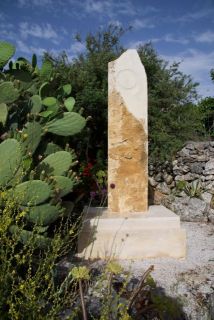 A private garden, completely enclosed by lovely stone walls and tree-lined boundaries, dividing it into several rooms. Each has its own seating area and now its own sculpture, all flowing beautifully into each other and back to the main path, making it an absolute joy to walk around. I kept coming upon another treasure to ponder over and ask myself the usual question: 'Could I grow that in my garden?'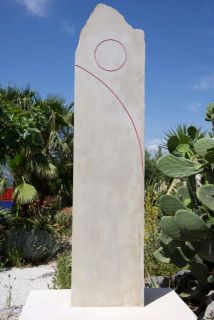 Roger had built two special garden pools which were inspired by the water features of the Majorelle Gardens in Marrakech. It was lovely to be able to sit on the edge of the classical square-tiled pools, looking at the fish swimming around at the base of the papyrus plants and listening to the water bubbling over the fountain.
Sara and Roger were not experienced gardeners before coming to Crete but their artistic background is clearly evident in the way in which they have planted the garden; their feel for colour, proportion and structure in the borders is obvious. The terraces work well and are home to many plants. It was a good example of 'no bare earth' with plants allowed to establish and spread to give good ground cover and help to conserve water.
The sculptures were amazing, all large and each one different, combining local stone, polished concrete, some engraved and some painted and all placed with much sympathy to the garden and sun and, of course, how they are viewed.
The planting is predominantly mediterranean, for example succulent plants are used, which thrive on the terraces. We saw large and established agaves, Aloe arborescens and Euphorbia tirucalli. There is a beautiful jacaranda tree in full flower and a magnificent Brugmansia covered in shell-pink flowers. There are pomegranate, lemon, orange and olive trees to give shade and the under-planting is full of huge swathes of Bulbine frutescens, Tulbaghia violacea, lavender and salvias.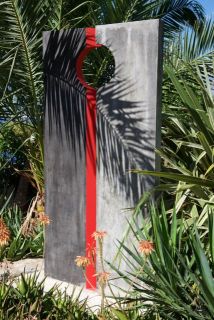 Roger and Sara also grow many plants in containers, from a very handsome Cycas revoluta taking pride of place on their top terrace to many pots of eye-catching succulents, from large examples of Agave attenuata to round tray pots filled with jewel-box arrangements of Echeveria, haworthias, aloes and crassulas.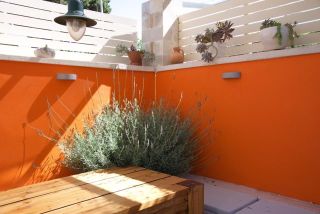 There are no pastel colours in this garden. The wall by the large seating area at the top of the garden, for example, is painted a vibrant orange and makes the whole area come alive, brave and stunning to view.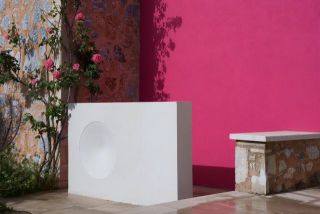 An area at the top of the garden has had part of the wall painted cerise pink as a backdrop to one of Roger's pieces, again just awesome to look at: it really draws the eye and makes you want to go and investigate.

We had a splendid morning looking around this fabulous garden, all making mental notes of what we could try back in our own gardens. We finished with a bring and share lunch with gave us the opportunity to go to the many seating areas and find our own space to relax.
This is still a garden in progress. Roger and Sara have more ideas to put into place and I for one can't wait to see them.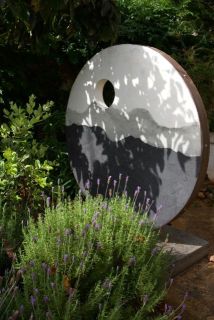 Text by Rosemary Thomas
Photographs by Sara Gilding
May 2016
A visit to two gardens designed, constructed and maintained by Chloroplastes, Kalives

Annika, co-owner of Chloroplastes, accompanied us on these visits and provided interesting details about both the design and plants chosen for each site.
Annika described the first garden in Kera, Apokoronas as a terraced water garden, set in the grounds of a modern villa surrounded by olive groves with spectacular views to the sea. The plot is approximately 4,000 square metres with the garden being 1,070 square metres.
The villa with its unusual design stands at the top of the property. A large pool terrace and an outdoor kitchen face the sea, giving an interesting perspective not appreciated at first.
Work on the garden began in spring 2013 continuing through the seasons to the winter of 2014; it is therefore still a young garden, being only 2½ to 3 years old. Our group entered the property through the pedestrian access below the house. Here an arched, romantic walkway has been created to draw the visitor into the garden.
The lower garden areas were once just a huge rubble slope, and Annika described the main task as 'to give this area a useful shape by considering the sea view'. Different terraces were constructed to enhance this area and the all-important stream structure that wends its way around the lower terraces to the pond below. The Epilobium canum (Californian fuchsia) at the spring was much admired.
To the north they created soft borders with no fencing, but instead hedges of Metrosideros and vines. Garden lights were installed alongside; a particular feature of this property is that much of the garden is viewed from above and so lighting became an integral part of the overall design.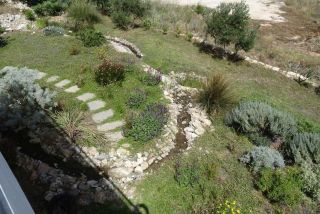 Water for relaxation and recreation, with the sound of running water, has been achieved by developing a stream and pond. This concept links the area to both the swimming pool and the sea beyond. Mediterranean lawns effectively fill large spaces using Phyla nodiflora (see photograph from the second garden).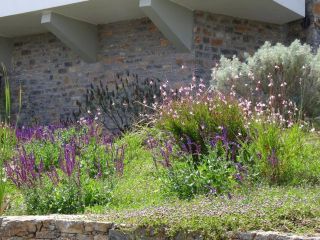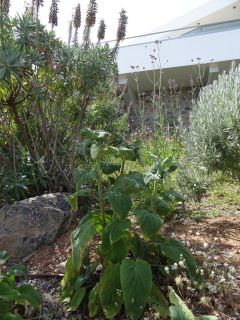 The echium provides stunning structure against the house
framed by vibrant Salvia nemorosa, Salvia sclarea,
Verbena bonariensis and pink gaura
I particularly liked a simple but effective feature in the outside kitchen: running along the back of the worktop is an integral trough with kitchen herbs growing; just right for picking when creating a meal.

A section of the innovative herb garden
Repeat planting is used effectively in the garden, including Syagrus romanzoffiana (syn. Arecastrum romanzoffianum -queen palm), Carissa macrocarpa (Natal plum), Salvia argentea (silver clary), S. leucantha, S. nemorosa, Ajuga reptans, Nepeta parnassica (Greek catmint), Knautia macedonica (Macedonian scabious), Silene coronaria (syn. Lychnis coronaria), Hypericum calycinum (St John's wort), Oenothera speciosa, Verbena bonariensis.
The second garden, Landscape Garden Villa Alexandria in Plaka, is described by Annika as 'a villa on the hilltop facing the bay of Souda deep in local greenery and herbal scents. This garden is located 30-45m above sea level and is just a short walk away from the sea. Each room of the modern villa has a sea view - the sea and the villa became one. And so did the garden become one with the villa and the surrounding nature.' A very apt description.
The plot size here is approximately 4,500 square metres, with a similar construction timetable as that of the first garden, which started in the spring of 2013 and which is now three years old.
A pink and white colour scheme was chosen to bring the visitor from the entrance gate to the main villa. This has been constructed on an artificial hilltop (consisting of 6 metres of rubble), so the main task here was to design the hill to make it look as natural as possible. Annika described how they brought in a lot of soil and large rocks, using local shrubs and bushes that have a dense, deep root system for stabilisation. This has been very successful; the visitor would have no idea that this area is man-made. As Annika said, the garden 'became one with the surrounding landscape'.

A bench has been placed in a perfect position to enjoy both the view and
the gorgeous array of Oenothera speciosa (pink evening primrose), salvias etc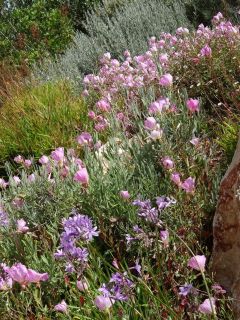 Being so close to the sea it was important to create a shelter belt to protect the pool area from the prevailing wind and to ensure privacy. As in the first garden, mediterranean lawns effectively fill large spaces, here leading to the pool area, using Phyla nodiflora. This is mown every four to six weeks and is an excellent alternative to grass. On our visit it was looking lush, covered with pretty, tiny flowers.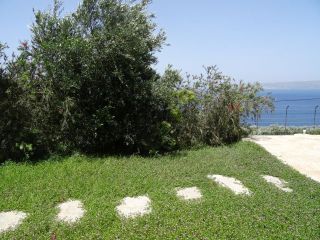 Many other colourful flowering plants such as agapanthus, honeysuckle, Allium ampeloprasum, Gaura lindheimeri and Tulbaghia violacea, and grasses including Stipa capillata have been planted near to the pool and house. Centaurea cineraria (syn. C. gymnocarpa) with its silver foliage caused much favourable comment.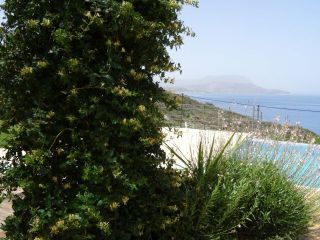 In both gardens we enjoyed seeing a range of different salvias thriving and in full flower, including the following Salvia argentea, Salvia nemorosa, Salvia nemorosa 'Blaukonigin', Salvia sclarea, Salvia sclarea 'Alba', Salvia staminea, Salvia 'Allen Chickering'.
With thanks to Chloroplastes and their clients for kindly allowing us to visit these lovely private gardens.
For further information about the gardens, see their website.
Text and photographs by Valerie Whittington
April 2016
An illustrated talk: 'Geophytes or bulbs of the Mediterranean' by John Fielding
at the European Sustainability Academy, Drapanos, Apokoronas
John Fielding is a professional horticulturist who trained at the Royal Botanic Gardens, Kew. He is a photographer, author, lecturer, garden designer and plant breeder, and he grows a wide range of plants, including many bulbous ones from the Mediterranean and particularly Crete. With Nick Turland and Brian Mathew he produced the book Flowers of Crete published by RBG Kew. He is also a committee member of the Royal Horticultural Society involved in judging shows and plant trials.
Following the great success of last year's talk Endemic plants of Crete, a group of 47 of us met at the European Sustainability Academy in Drapanos where John shared his enthusiasm and expertise about geophytes of the region.

A geophyte is a plant that has a dormant season where the top growth dies back to soil level. They are typical of a mediterranean climate as found on Crete. It is a term most often used for plants that have storage organs including bulbs, corms and tubers. John introduced a range of plants worth trying in our gardens – including some species native to Crete, such as that shown in the photograph below. I love the idea of creating such a natural sweep of planting under trees, although John feels that this plant may not thrive so well near the coast.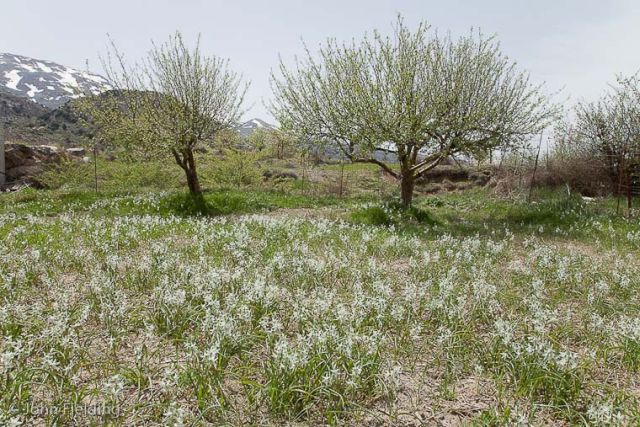 Ornithogalum nutans, Katharo plateau, Crete
As part of this fascinating presentation, illustrated by John's excellent collection of photos, we were shown maps of Europe indicating that our climate here in Crete is in some respects not so different from that of northern Europe. For example, much of Britain is a mild part of Europe, with Norfolk being very dry with a similar annual rainfall to that in Crete. This was a surprise to many, so perhaps we should be braver in experimenting more with geophytes. Nevertheless, we should remember that the distribution of rainfall over the year is of more importance in determining climate than the total annual precipitation. It is the relationship between precipitation and temperatures that determines hydric deficit, and of course the Cretan summers are much hotter and longer than those of Norfolk.
The location of Crete lends itself to many possibilities regarding plants to consider trying, given its location in the Mediterranean and its proximity to the North African coast and the Middle East. I remember being fascinated to find many similarities between our own flora here in Crete and that of the Libyan coast which my husband and I visited a few years ago. We are, of course, only 250 kilometres away across the Libyan Sea. John showed photographs of various geophytes that might grow happily in our Cretan gardens from Israel, Portugal, Spain, Italy, Turkey, and from countries nearby, as well as from the Peloponnese on mainland Greece and from private collections in the UK.
There was a lovely photo of a typical bluebell (Hyacinthoides non-scripta) wood in Dorset, England which would not be achievable here. However, another drift of flowers under showed that a similar effect may be created with Scilla latifolia, see below.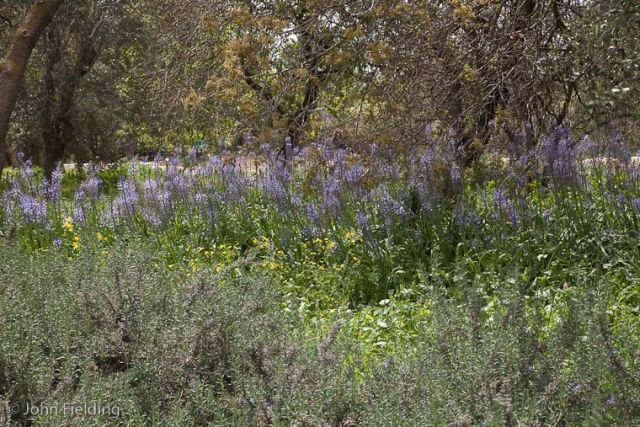 Scilla latifolia, Rothschild Memorial Garden
We were made aware that we should always be cautious when we introduce plants from 'elsewhere' into our gardens. John warned about potentially invasive plants such as Oxalis pes-caprae, showing pictures of fields overrun with this pretty plant in, for example, Prina and Gonies in Crete. This oxalis is very invasive: it does look delightful growing in olive groves, but it is a real pest in a garden. Alliums, to give another example, are very attractive plants, but can also easily become invasive because they produce many bulbils instead of flowers. Muscari species can be a similar problem. However, John suggests that Muscari macrocarpum works well in gardens and is highly scented.
In the scope of this write-up I can give but a small flavour of the content of this presentation which consisted of over 100 photos. I have chosen a selection of plants that I feel are particularly relevant to Crete with real possibilities to work well and blend in with the native landscape of our gardens. Two examples are shown below.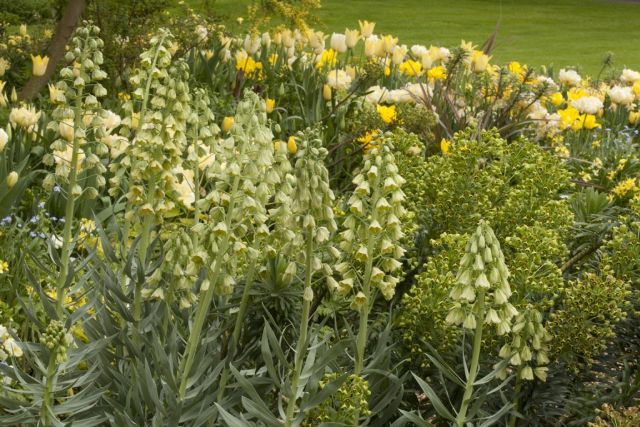 Fritillaria persica 'Ivory Bells' growing with Euphorbia characias
Euphorbia characias grows wild and happily in my own garden; I felt that the Fritillaria perscica 'Ivory Bells' would make a lovely companion plant.

Sternbergia lutea (syn. S. sicula) with Euphorbia myrsinites
Sternbergia lutea and other forms are deemed worthy of trying in gardens.
John highly recommends trying narcissus. We were shown some lovely specimens from Portugal and North Africa as well as from the Mani, Peloponnese. N. obsoletus is widespread on the Rodopou peninsula in western Crete and in the east at Pano Elounda. Following some questions regarding planting depths, it was suggested that given our conditions we should plant these bulbs deeper than we might normally expect and that all bulbs like occasional 'feeding'.
Corms were discussed, colchicums being the most obvious for us to consider as they grow so well on Crete generally. I planted some very small colchicum corms in my own garden a few years ago and last autumn it was a joy to see them in flower.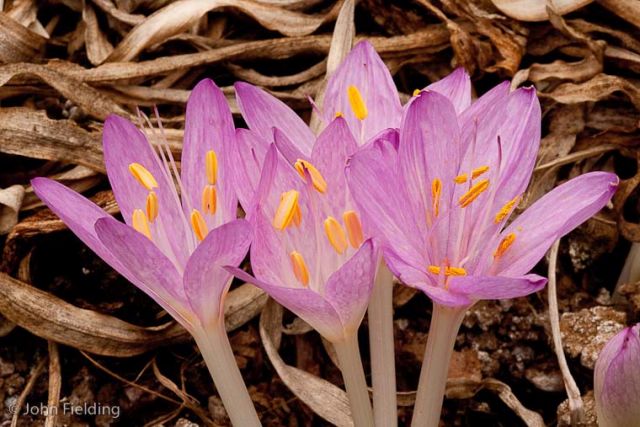 Colchicum sp. from Harry Hay's private collection
As well as colchicums, cyclamens are another good choice for Crete, as long as they are planted in the shade. There is a wide range to choose from or collect. John has grown numerous varieties and clearly has a great love for these plants. Below is a photograph of some Cyclamen graecum, part of the collection in his London greenhouse.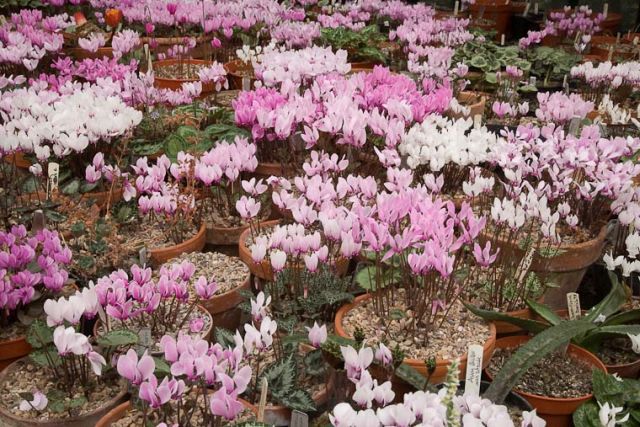 John Fielding's Cyclamen graecum collection
One of the virtues of cyclamen lies in the varied and beautiful leaf forms.
As Cyclamen creticum is very common, other species should be very easy to grow as well. I have a few Cyclamen persicum and C. hederifolium growing in my garden. John presented a photo showing that in Israel, where it is a native plant, C. persicum is cultivated in olive groves as ground cover. Growing cyclamen from seed is best.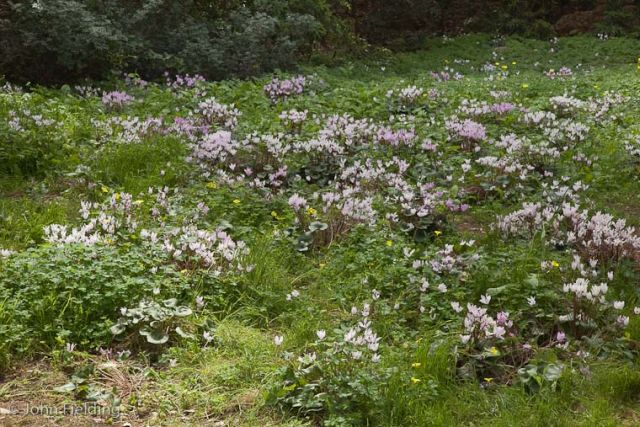 Cyclamen persicum, Rothschild Memorial Garden
Tulips are another worthy choice and seen little in local gardens. John showed Tulipa agenensis from the Negev Desert in Israel and Tulipa sylvestris, common to the Algarve, Portugal, as an inspiration in the photograph below. Tulipa vvedenskyi was also deemed worth trying.
Given that Tulipa orphanidea subsp. doerfleri (syn. T. doerfleri)is almost a weedon Gious Kambos near Spili, Tulipa saxatilis grows successfully on the Omalos plain and Tulipa cretica in Kavousi in the east of Crete, tulips could be used more widely. John showed a photo in which Tulipa saxatilis was seen matched with Euphorbia myrsinites. This combinationwould seem to me to be a perfect addition to any garden.
Several arums, anemones, irises, gladioli, pelargoniums and ranunculi were shown and recommended as well as a few Tropaeolum tubers. I grew a Tropaeolum tricolor successfully in a pot for a couple of years - a very pretty and unusual climber. The well-known nasturtium is happy in our climate. The Tropaeolum azureum shown was a distinct blue, John believes that the whole range is worth a try.
This was very much his message: Try different geophytes and see which works best for our individual circumstances – but with the caution raised at the outset; experiment with care and share experiences. The inevitable question of sourcing was raised. The internet has sites for relevant plants from specialist nurseries.
John supports seed and plant exchanges among ourselves. The MGS has its own seed bank which is a great potential for all members to use for their own gardens; we can support it through collecting and contributing seeds. The full seed list is published twice annually.
The presentation came to an end all too quickly with a several photos of Ranunculus asiaticus andhybrids. John has been breeding plants for 20 years and this family is of particular fascination and interest to him.
The pleasure gained from the group was palpable and summed up by a guest: John 'knows his material so well that he is a very comfortable speaker, easy to follow. His enthusiasm for his subject is obvious as well as infectious. He is also surprisingly (for me at least) knowledgeable and up to date about Crete - locations, plants, conditions. Very glad we came.'
A traditional Cretan buffet meal followed in the lovely ambience of this unique setting.
Text by Valerie Whittington
Photographs by John Fielding
April 2016
A walk down the Imbros Gorge
Seven members of the Cretan Branch joined a group of UK members of Mediterranean Plants and Gardens, who were on a trip organized by Heather Martin and accompanied by horticulturist and botanist John Fielding, who has a special interest in the flowers and plants of Crete. Among the Cretan members were Stelios and Daphne, hoping to pick up tips and suggestions about seeds and plants which could form a useful basis for propagating more indigenous plants in the Chloroplastes nursery.
The Imbros gorge is reputed to be one of the easier Cretan gorges to walk, being a mere eight kilometres long, with a 650 metres descent, as well as being among the richest in flora, including many plants endemic to Crete. At the beginning and end the terrain of the gorge is relatively open, but in the central area it is squeezed and tunnelled between cliffs so that the passage becomes less than 2 metres wide.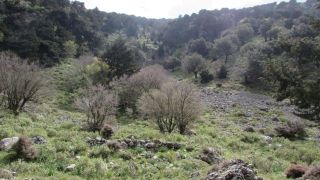 Wide sweep of the upper gorge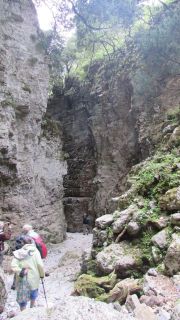 The narrow central section lower down
The gorge used to be the only route from the north of the island to Sfakia, passable only by foot or donkey, and some lovely stretches of the μονοπάτι or path still survive, winding between cliffs that rise to 300 metres.
The gorge has quite a history, having been the refuge of Christians, the base for revolutionaries and, during World War II, the escape route to the sea and hoped for safety of allied forces fleeing the German advance. We at least had the luxury of time to enjoy the views, the geology, plants and trees as well as the company, free from the shadow of war.
We were lucky with the weather. The breeze was chilly but refreshing and hot sunshine was interspersed with cloud and even a few drops of rain, but overall we enjoyed excellent conditions for the walk.
The gorge itself was surprisingly lush, and the geology, with the dramatically stratified limestone rocks, spectacular. The porous rocks with their crevices and ledges, the near vertical walls, the climatic variations and the millions of years over which plants have established themselves and evolved make for a unique and rich environment.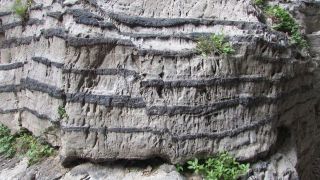 Stratification in the rocks
We benefited from the guidance of John Fielding who pointed out and named a range of species hanging on in seemingly impossible crevices and co-habiting and competing on vertical rock faces and ledges.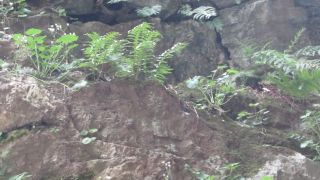 Polypodium, a rare fern, sharing a ledge with lady fern, Athyrium filix-femina
While the experienced botanists were thrilled to find rare treasures and endemic plants, for someone of limited plant knowledge the sheer beauty of more common flowers in great abundance (many new to me), and the sheer audacity and adaptability of trees and plants to find a root hold and survive in such terrain was a delight, wonder and amusement.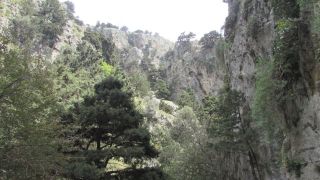 Trees growing in and through the vertical cliff faces,
the incredible adaptability of the trees growing here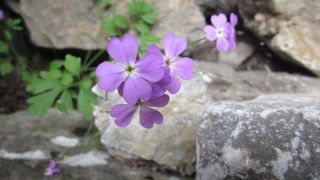 The delightful blue-mauve Ricotia cretica
Halfway along the gorge we were passed by locals, a large flock of nimble-footed and photogenic goats, who nipped up crags and sampled the plants, rare or not, and no doubt they too continue to play their part in the dissemination of seeds and the control of rampant species. There has been an increase in pine and cypress trees in particular in the past two hundred years with a possible link to the decreasing number of goats.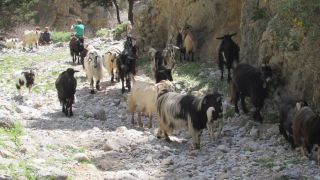 It was enjoyable chatting to people as we progressed down the gorge. Occasionally we were overtaken by pupils on a school outing, a small French party and other walkers, but there were no crowds and at times one felt completely alone with nature.
The latter part of the walk felt a bit of a slog as the gorge widened out towards the sea, and only the lack of alternatives, such as a willing donkey, and the prospect of a meal kept us going. Most of the group had already eaten when we trailed in after four hours to the taverna. The meal was the least memorable part of the trip, but we were grateful for the lift in the coach back to the start of our gorge odyssey, and a little sad to be saying goodbye to our new friends.
Being very aware of my lack of knowledge, my cunning plan was to invite comments from other members of the group about the highlights of their day. There were two comments about the flora: one member 'loved the Petromarula (especially as it was blue)', while another noted that it is easy to confuse Euphorbia sultan-hassei, a notable Cretan endemic in the lower reaches of the gorge, with the more common Euphorbia dendroides. Someone else wondered how trees can find enough nutrition when they are growing out of bare rock.
Members of the two groups enjoyed sharing the experience and thanked the MPG and the MGS Branch for organizing a trip which, as one person put it, 'I wouldn't have done on my own'.
So I think it safe to conclude that it was an enjoyable and memorable trip on all levels, and one to relish in retrospect when photos are scrutinized and joints and muscles recover.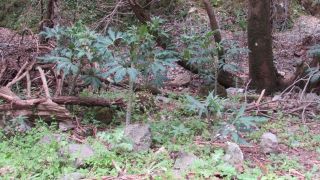 A fairy forest of Dracunculus vulgaris, which thrives throughout the gorge
Imbros Gorge - list of plants seen
Adiantum capillus-veneris (maidenhair fern)
Alyssum (endemic annual)
Athyrium filix-femina (lady fern)
Asphodeline lutea
Cyclamen creticum
Cyclamen graecum
Delphinium staphisagria
Dracunculus vulgaris
Ebenus cretica
Erysimum (wallflower)
Euphorbia sultan-hassei
Ficus carica
Linum arboreum (flax)
Origanum dictamnus (dittany)
Petromarula pinnata (endemic)
Ptilostemon chamaepeuce
Ranunculus asiaticus (turban buttercup)
Ricotia cretica
Saxifraga rotundifolia
Sedum amplexicaule
Staehelina petiolata, syn. S. arborea (endemic)
Symphytum creticum (comfrey)
Urtica pilulifera (Roman nettle)
Valeriana asarifolia (Cretan valerian)
Verbascum spinosum (spiny mullein, endemic and widespread)
Trees
Acer sempervirens
Cupressus sempervirens
Pinus brutia
Quercus ilex
Text by Mary Newbery and photos by Gary Newbery
March 2016
Visit to Valerie and Clive Whittington's garden, Drapanos, Apokoronas
Val opened her garden to a group of 31 members and friends. Earlier in the week the weather forecast had promised rain, but in the event, despite a high wind, it remained dry.
After 10 years, the garden is fulfilling Valerie's stated aims: 'to make this a sustainable garden that has a sense of where we live and which is in keeping with the landscape'.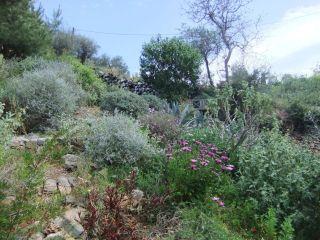 The lower bank designed to be in keeping with the natural landscape
We sat on the terrace while Val talked about her priorities: to create a garden that felt right in its environment and to use native and/or drought tolerant plants wherever possible which did not depend on copious amounts of water. Her garden demonstrates that those plants which are at home here, in other words native, can coexist very happily with plants that have been brought in. She talks of 'painting with plants' and indeed, there is a great variety of colour and texture within the garden. The garden is a balance between design and maintenance so that it becomes largely self-sustaining (though it is hard to imagine Val sitting back at any time, satisfied with what she has created).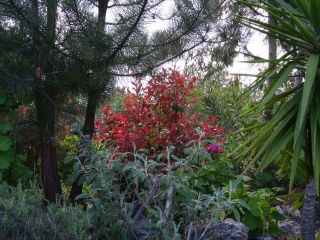 The land was originally a wild hillside, home to goats, and it had never been cultivated. The original soil is generally satisfactory to work with in these areas. There were few trees, so planting these has been a priority. The building work created a large area of waste and a steep bank, prone to erosion despite numerous lorry loads of soil which were brought in to cover this. The bank has now been terraced to conserve soil, with many plants growing in their own small hollows. The land is poor and rocky – like so many of our Cretan gardens. This lends itself to a variety of designs: some where the amount of bedrock dictates which areas may be planted, others where soil has been brought in and the land built up to given a greater depth.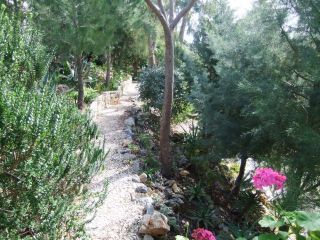 Pathway through the middle terrace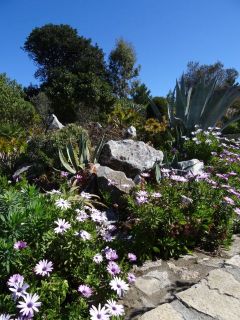 One of the rockeries
Everywhere there is something different: a rockery, a dry garden planed with succulents, cacti and a huge Euphorbia ingens, a copse area of trees and rocks, a wild grassy meadow and so on. The ravine at the lower boundary has been cleared of the impenetrable undergrowth which blocked it, and it is now a different experience again as one walks through what feels like a woodland path, to reach what Val calls her 'agave waterfall'.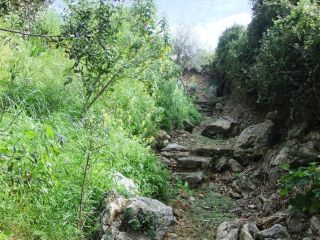 Looking up the ravine

The 'agave waterfall'
The garden is fulfilling her stated aims and has come well through the long, dry spell of this winter with very little rain and supplementary water. Two water butts collect run-off rainwater, which supports conservation.
Plants are usually grouped together for impact and cohesion, creating plant communities – groups that work well together and have similar needs as regards both soil and water. Areas are zoned, generally by type: palms, yuccas, agaves and succulents, for example, fit well with the wild area of phlomis and euphorbia.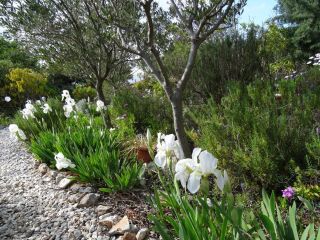 A sweep of iris inspired by an early visit to Sparoza
In spring there are a great many different wild flowers. These are valued for their natural beauty and they belong on the land. They are respected and enjoyed as a major part of the garden and they are not weeded out or cleared until after they die back. Some are used as mulch in the 'managed wild areas', others set seed and die back naturally. Those that are potentially invasive, such as thistles, are removed before they go to seed.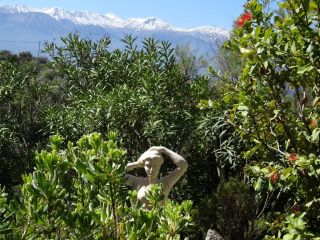 A visitor's comment 'It is such a joy to discover a different plant
or tree or even a statue behind the bends in the path'
The biggest tasks in Val's garden at present are maintenance and cutting back some of the plants and trees that were originally planted too close together. Many of these came from the Chania Forestry Department sale. Most of them were small and have survived well. There is only one tree in the garden that was not bought as a very young plant and that is the Pinus pinea which stands, well-established, by the gate. Gifts of cuttings were appreciated and some of the trees which are now features within the garden were raised from seed. The rate of growth here on Crete is always faster than we envisage, so many things take really well, which causes its own challenges. It is hard to believe that the oldest parts of this garden are a mere nine years old, and many are very much more recent.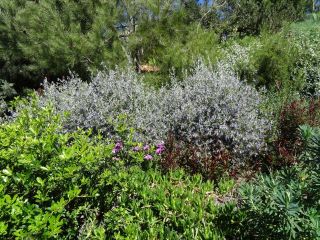 Teucrium fruticans 'Azureum'with its stunning deep blue flower
Very little is wasted, everything is shredded for use in covering paths as an alternative to gravel or mixed in with a compost of kitchen waste and seaweed. Wood that won't fit through the shredder is used for kindling in the wood-burning stove or cut up for logs.
There were a number of highlights, some already mentioned: the huge clumps of blue Echium candicans, covered in bees and butterflies and all grown from one original plant, the trees, such as some wonderful feathery eucalyptus – once again, many seem far more mature than they actually are. The Teucrium fruticans and Scabiosa cretica, also in flower, were much admired.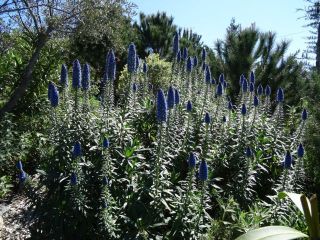 Echium candicans covered with butterflies
Val is now experimenting with specialist dry-garden plants supplied by Olivier Filippi from his dry-gardening nursery in Mèze, near Montpellier, France. She and her husband, Clive, visited the nursery as part of an MGS tour of gardens in that area in October 2014.
Walking around this inspiring Mediterranean garden, we enjoyed the variety of the different areas and the combination of different plants and colours.
The visit ended with a delicious meal at the local taverna in Drapanos.
In 2014 several MGS members in Crete ordered plants from Olivier Filippi's dry-gardening nursery. Following the talk, we spent a short time discussing how well they were adapting to our particular conditions. They will continue to be monitored and outcomes will be shared to support and inform future plant choices for our branch. Particular success was noted with low-growing teucriums: Teucrium cossonii, T. aureum and T. luteum.
A full article entitled 'Designing and working with the Natural Landscape in Crete' by Valerie about the development of her garden can be read under 'Branch Head' at the end of this webpage and in The Mediterranean Garden No. 63.
Main text Sam Spade. Photographs (all taken in March) by Valerie Whittington.