The Greek Branch of the MGS
Forthcoming Events
For a list of this Branch's Future Events, as well as reports from more recent Past Events, click here.
Past Events 2016 2015 2014 2013 2012 Older
April 2018
Visits to gardens in Peania
This was our best-attended visit of the spring. About 35 members met up at one of Lefteris Dariotis' gardens in Peania where we were given coffee and biscuits. In this particular garden he grows many salvias, bulbs and other plants too numerous to mention by name. He has recently created a bed of alpine plants with a mulch of fine gravel which is looking fabulous.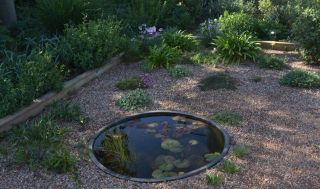 Gravel mulch in Lefteris' garden
We then moved on to his 'Goat Garden'. Here he has over 360 plants that are now grown with no water except for what they get from the sky. He started the garden four years ago. For the first year he watered the plants once every 10-20 days during the hot summer months. The second year he cut this down to every 20-30 days and for the last two years he has not watered these plants at all. The majority of the plants are native to Greece and the garden looked fantastic with many of them being in flower. He said that he has not added any compost or soil improver to the garden, but he has added a thin layer of gravel mulch on top. This garden generated much interest from all the members.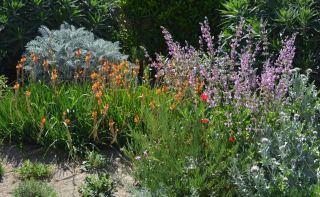 Lefteris' 'Goat Garden'
Finally, we visited the Vorres Museum where Lefteris has been involved in replanting some of the beds and pots with the aim of using less water. It was all looking wonderful, as always, and we were very interested to see the changes that have been made.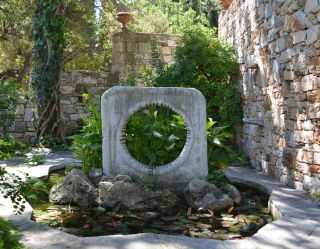 Vorres Museum garden
In true MGS style we finished the visit in a fabulous taverna in Peania with lots of delicious Greek food. Thank you from all of us to Lefteris for such an interesting visit.
Text and photos by Rosey Boehm
March 2018
Botanic Walk at Kaisariani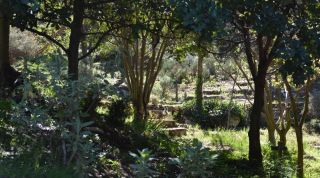 Botanic walk
Once again it was a beautiful morning when a number of MGS members and their guests met under the magnificent plane tree next to the monastery at Kaisariani on Mount Hymettos.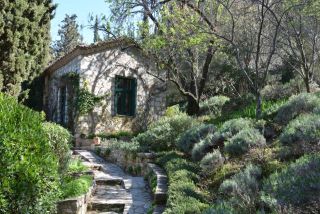 Headquarters of the Friends of the Forest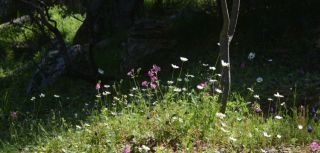 Spring flowers
We were led by Sophia who told us much about the plants and about what she and her colleagues are doing in the botanical part of this forest. We also visited their new garden, which they opened less than a year ago. It has grown a lot since we last saw it in the autumn of last year and it is looking really wonderful. Many of us couldn't resist the urge to buy some unusual plants from their nursery.
Text and photos by Rosey Boehm
March 2018
Plant and Seed Exchange at Sparoza
We were lucky to have a beautiful sunny day for the spring plant and seed exchange. Many of the volunteers were there early with sandwiches, biscuits and cakes for the visitors.
Throughout the morning we had a steady trickle of people who came to see the garden, meet up with friends and, of course, get plants and seeds from the nursery to try in their own gardens. It was a great morning and quite a number of people really enjoyed their refreshments on the back veranda of the house.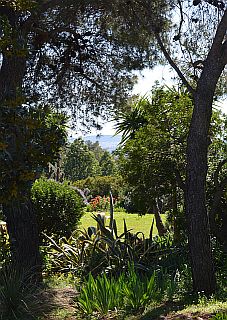 Some of the visitors in the nursery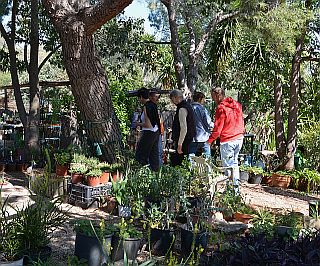 The garden at Sparoza
The plant exchange is held twice a year, in spring and autumn. The next event will probably be in November.
Text and photos by Rosey Boehm
March 2018
Visit to a community planting project on Tourkovounia, Athens
On a beautiful day a few MGS members met up with Jane Taniskidou, who arranged this visit, on a mountainside in Athens. We walked down a steep and rocky path to meet up with two men whom Jane had brought to Sparoza a few days before. They were very enthusiastic about what has been achieved at Sparoza with minimum water use as they have set up a community project to replant and develop the forest on Tourkovounia, a mountain in the Athens area that has very limited access to water. Like many mountains in and around Athens, it was once forested but it has suffered from fire and human interference.
Since 2004, when Stelios Bakalis retired and decided that he did not want to spend his time in a kafenio, he is to be found almost every day on this mountain, replanting trees and shrubs. He says his knowledge is minimal, but his enthusiasm is boundless. He has since been joined in this project by a very old friend, Dimitris, when they met up, quite by chance after many years with no contact, and a group of volunteers who join in whenever they can.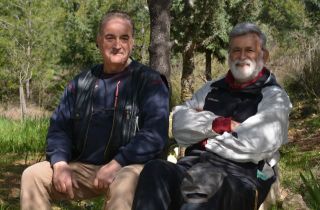 Dimitris and Stelios (left to right)
We spent the morning being shown around the project by these two wonderful men. There are now many healthy trees which were planted many years ago and which are now getting pretty big. In some of the trees there are bird boxes which have been given to the project by schools all over Greece. We were told that there has been a noticeable increase in the number of birds since the replanting began. They have planted a herb garden and they are experimenting with growing vegetables - not from seed, but from things which re-sprout from the base when they are thrown away as kitchen waste, such as leeks and onions. Recently they have started a composting project, the production of which all goes back on to the land. We could easily see that their work and dedication to this project, and consequently, the area of replanting is continually expanding.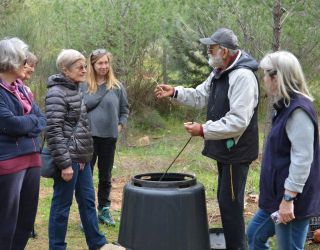 Stelios showing us his compost

Dimitris in a part of the garden they have created
Following this visit we drove to a wonderful mezedes taverna in Neo Psychiko where we
shared some great food, excellent tsipouro and good conversation.
Text and photos by Rosey Boehm
February 2018
Visit to A-DASH Project Space, Asklipiou 74, Exarcheia, Athens
On a very grey morning with the dark clouds threatening heavy rain later, about 25 members of the MGS visited A-Dash, an artist project space in central Athens. We were there to meet up with Catriona Gallagher, also an MGS member, to hear her talk about her collaboration with several other artist friends to create this space, what they have been doing there and her own project, which is what led her to the Mediterranean Garden Society in the first place.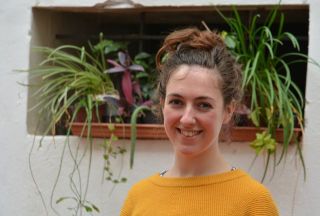 Catriona Gallagher artist at A-DASH Studio

In the courtyard of A-DASH Studio
Having managed to negotiate the steep stairs in this old, converted house and helped ourselves to coffee and biscuits, we spent an hour or so listening to her interesting story accompanied by a slide show. She has spent the last four years in Athens researching and creating work based on the observation that although Athens is reputed to be the least "green" city in Europe, in fact one should take the time to look at it from a slightly different perspective: it is full of plants.
The artists were given use of the house on the condition that they did it up and maintained it. This they managed to do through crowd-funding. The house has a small courtyard at the back and they decided that they would like to furnish it with plants and make it part of the art work. Having very little money at their disposal, they invited artists from different countries to donate plants that meant something to them in the context of Athens. Each artist was asked to write something about why the plant that they brought reminded them of Athens and these were all exhibited over a couple of evenings in the courtyard space.
Catriona also told us about her personal four-year project to create a video work based on the largely ignored but abundantly growing plant perdikaki – Parietaria judaica.
Just as we were ready to go and take a look at the courtyard space, the heavens decided to open and the promised rain poured down. Fortunately quite a number of members had brought umbrellas with them and so we were able to take a look around despite the weather.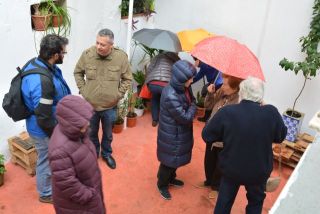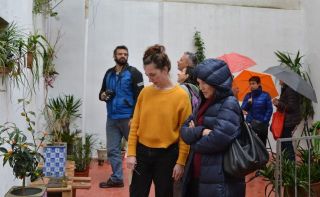 Braving the rain in the courtyard of A-DASH
Once we had all had a good look round, some of us braved the weather and walked through a busy local market to a local taverna, Ama Laxei, for a delicious lunch.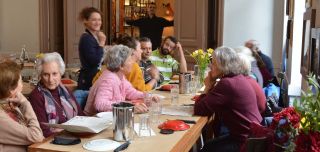 Lunch at Ama Laxei
This was a very interesting visit and it was good to be reminded that plants can be, and are, used in a wide range of ways, not only in gardens. Many thanks to Catriona for this and for her generous hospitality.
Text and photo by Rosey Boehm
October 2017
A visit to the Attiko Fytoriako Parko
Our group met on Monday, 2 October at the Attiko Fytoriako Parko in Vari at 11.00. We were welcomed into a magical world of trees, shrubs and plants, spanning 61 stremmata or roughly 15 acres, organised like a botanical garden with love and much thought. Only 11 dedicated and very hard-working people run and maintain this extraordinary achievement, which includes a nursery open to the public, a market garden, in addition to the eighty themed sections or modules outlined in the leaflet, and a Ministry-approved educational department for school groups and student visits.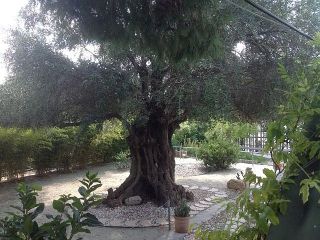 A magnificent olive tree in the gardens; she has stood here for 1039 years
The Attica Nursery Plant Park, as it is called in English, is an interconnecting group of botanical gardens which houses and promotes human activities. The park comprises a varied landscape and the conversion of a large nursery into a botanical garden containing a great many common species as well as some rare collector's species of the plant world.
The eighty themed plant modules are part of the environmental education offered by the Park. These include, among others, the indigenous plants of Hymettos, plants for local gardens, herbs and pharmaceutical plants, poisonous plants, a cactus garden, subtropical plants, plants for honey bees, pharmaceutical aloes, shade-loving plants, bonsai plants, paper- and fabric-producing plants, windbreak plants etc.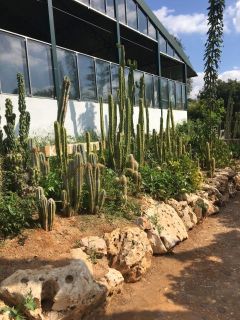 The cactus garden at the side of the education center
Thanos Vaiopoulos, the owner, spoke for a brief 45 minutes and could have continued all day, as far as I am concerned. He spoke to us in the 'Biblical Garden' surrounded by trees, shrubs and plants which are mentioned in the Bible and the Koran. He painstakingly outlined why each of these was present and why they had survived the test of time for Mediterranean people.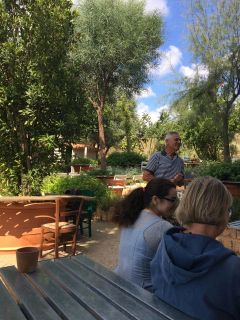 Thanos speaking in the 'Biblical' garden
He listed, among others, the following trees: olive, fig, mulberry (which needs neither sugar nor preservatives to remain an edible jam), carob (animal feed), Laurus nobilis (he mentioned that Sunday 'των Βαϊων' in Greek Easter celebrations was probably actually celebrated with palm fronds as on Palm Sunday), cypress (trunks used as masts for fishing boats), pepper trees (Schinus molle), and henna: the Koran mentions an additional species of henna tree, the others being identical to those referred to in the Bible.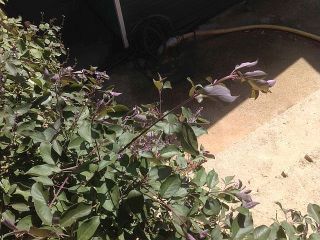 Vitex trifolia 'Purpurea', just one of many wonderful plants in the gardens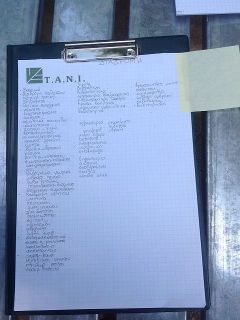 Notes made by Thanos for our visit; too much for one visit - we shall have to come back
He mentioned aromatics and herbs for their nutritional, medicinal and culinary use and spoke of the importance of supporting the ecosystem by avoiding pesticides and herbicides at all costs, as well as describing a 90-minute trail through the hill above the park in which to observe indigenous plants and shrubs. He also discussed longevity and health in direct relation to activities and nutrition and he expressed concern about climate changes which had an apple tree fruiting on August 1st and wild cyclamen growing in September on a trail where they normally flower in January and February.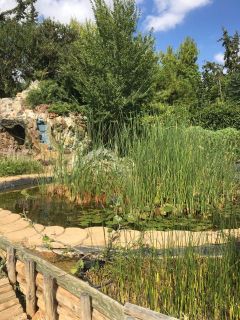 The pond where plants with water-filtering properties are grown
Again, thank you, Christina, and thank you, Thanos!
Text and photos by Lilian Lorenz