» Home
» About
» Membership
» Journal
» Sparoza Garden
» Branches
» MGS Forum
» Seed Exchange
» Donations
» MGS Excursions
» Information
» Members' Gardens
» Book Reviews
» News & Views
» Contact
» Search


The Balearic Islands Branch of the MGS
Past Events 2012 2011 2010 Older
November 2013
A visit to a new garden design project near Maoris
On Saturday November 16th, twelve keen members of the Balearic branch braved ferocious weather to attend our last garden event of the year. We met at the new project of one of our Swiss members, who kindly invited us to see her astonishing, bold plans for this enormous piece of land. The property is situated about 20 km to the east of Palma, in a rural and tranquil setting between the old town of Llucmajor, and the newer one of Maoris. On the 55,000 square metre plot is a large house, only 30 years old, but built in the traditional manorial style, which the owner intends to renovate completely and make her home on Mallorca. This in itself is a big task, but coupled with the amount of land to be landscaped and planted, it was almost overwhelming.
Landscape architect and garden designer Christophe Fahrni has been employed to transform this wilderness of unkempt maquis into a mediterranean garden for the new owner, he and she being old friends from Switzerland, who know each other's ideas well enough to collaborate on such a large project. Christophe took us up on to the roof of the house and showed us the 360 º view of all the land to be planted and the lovely views to the sea in the south and to the mountains in the north. The plot is flat, so excavation will be relatively simple, and the soil is rich and agricultural, so there is no need to add imported topsoil. Elsbeth Stoiber suggested the use of vermiculite to improve drainage, and Christophe was interested in this idea.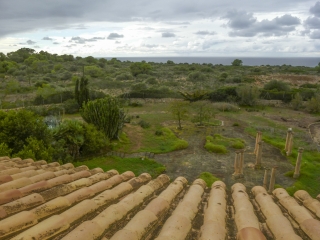 The view to the sea, and the pool and small lawn area
As the rain poured down and the temperature plummeted, we huddled in the shell of the house and examined the ambitious plans the architect had brought along to show us. The area will be divided into separate sections of varying planting. At the front of the house, facing the sea will be a small lawn area, shaded by existing tall Phoenix dactylifera, and this will be separated from the westerlysucculent garden by a traditional wooden farm gate, to be made especially to fit. Excavated soil from the garden will be used to raise the succulent area and give it hilly contours for interest. To the east will remain a large area of maquis, as at present, and behind the maquis will be a grove of Ceratonia siliqua, and behind these a grove of Prunus amygdalus (syn. P. dulcis), bordered by a citrus orchard. It was pointed out that the walls required to shelter the latter from the sea wind would need to be much higher than presently planned. A long avenue of Olea europaea will lead up to the front door, and large numbers of mature Phoenix dactylifera will be planted to give structure to the low-growing garden.

The garden designer pointing out the new succulent garden
This is a massive project, due to begin this week, and we look forward with great interest to this time next year when our hostess has kindly asked us to return to see the finished work.
We wish her and her architect the very best of luck, and are sure the garden will be a beautiful creation in a peaceful and lovely setting.
October 2013
Autumn get-together and plant exchange
The branch held its annual autumn get-together, combined with a plant exchange, on October 12th at Ca'n Mel, the home of Marianne and Andrew Beith.
It was wonderful to see the garden at Ca'n Mel again, as we have not visited it as a branch for two years or more. This is a garden that fascinates, as it seems to grow at an astonishing rate, probably due to the love that is lavished upon it by its owners.
On a lovely, warm, autumn day, around 30 branch members toured the garden, divided artfully into many different 'rooms' or sections. Marianne took us to look at her now mature succulent garden; it amazed us all to see how rapidly it had grown since our last visit. Helped by good drainage from the large amount of sand and rubble used to form the site, the plants have spread to form a mounded, contoured garden, with a narrow path leading through, allowing an elevated view of the other parts of the garden. It is really very beautiful, and especially as many of the succulents were in flower at this time of year. Marianne pointed out Bulbine frutescens, which she says blooms continually and requires no watering once established. She also lauded Asystasia gangetica as an excellent form of white-flowering groundcover, much loved by bees.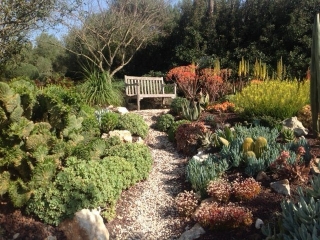 The succulent garden with excellent drainage

Hedera helix used as a picture frame

Glaucium flavum, the yellow horned poppy, self-seeded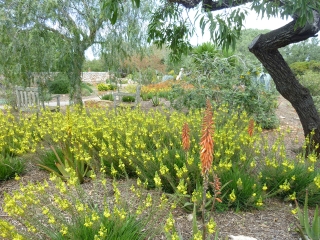 Garden perspective with Bulbine frutescens
Andrew proudly showed his cacti and his "Jurassic Park". A fun feature in this part of the garden is the stone "map" of Mallorca, which began life as a sand pit for the grandchildren, but as excavations proceeded, Andrew saw emerging from the earth a natural limestone rock, much resembling the shape of the island. This was then left as a feature in the cactus garden, where it certainly looks like a carefully chosen art work, half concealed by an enormous Agave americana subsp. americana. It was pleasing to see that the earlier grafts made by Gabriel Bonet had taken so successfully on the almonds in the park, and also to see the size of Marianne's "babies", trees and other cuttings brought back from holidays in Namibia and South Africa. One of these, Acacia karroo Hayne, was metres taller than at our last garden visit. The effect of the garden as a whole at Ca'n Mel is one of harmony, contour and colour, artfully combined to create a feeling of unity as one strolls through. It is a very pleasing garden, and clearly a labour of love for its proud owners.

Agave americana var. variegata in "Andrew's garden"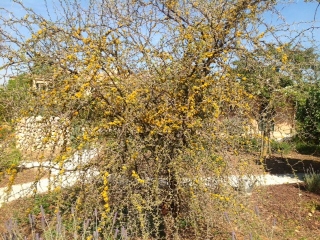 An appreciative resident, Acacia karroo Hayne
After our tour we sat down to our autumn get-together, to discuss ideas for the coming gardening year. I had hoped to find a replacement for my job as BH, but no one felt able to take this on, so we decided we would compromise for the coming months and put forward event ideas between us in order to help us plan and organise the next year. Ideas were put forward for visits, meetings, etc., and members voiced their opinions and thoughts as to how we should work over the next gardening year. The idea of another branch trip was put forward by Martin Wieser, following the success of the spring trip to Costa Blanca, and this was popularly supported. The upcoming elections in Athens were discussed, and members were encouraged to give proxies.
Marianne had provided a delightful buffet lunch, to which members added a dish, so we all enjoyed a very simpatico hour or two, chatting and enjoying the garden, as we ate delicious dishes such as Cindy Evans' homemade Baba ganoush, and Carol Jackson's colourful salad of beetroot and pomegranate seeds.
Lunch over, we moved to the plant exchange. Everyone had been asked to provide at least five specimens, all labelled, so there were lots of interesting plants to choose from. Carol Jackson brought a number of terracotta pots for exchange or sale, and Andrew had laid everything out on a long table for display. Everyone went away laden with pots and plants, and with their cars full. This was a great success, and a lot of fun.
Our autumn get-together is a lovely way of meeting up again after the long, hot summer break, and we are grateful to Andrew and Marianne for hosting such a fun and happy day for us.
Text and photos by Sally Beale
May 2013
Biniagual
On 31 May over forty Balearic MGS members and friends visited the stunningly beautiful gardens at Biniagual, near Binissalem. Biniagual is a private hamlet, bought up as an abandoned village in the 1960s and lovingly restored by its owners to its present charm and beauty. The hamlet comprises about twenty old stone houses, all of which are lived in by family members or workers on the estate. The gardens were begun about twenty-five years ago, and are now mature and elegant, offering a number of interesting and unusual varieties of plants, as well as stunning views to the main Tramuntana range to the north. There are several gardens, all with different themes, and all enclosed by high, drystone walls providing shelter from the north wind and total privacy. An enormous Ceiba speciosa (syn. Chorisia speciosa) towers over the oldest garden, which leads through an arched doorway in the wall to a sheltered courtyard filled with potted palms. In another garden a weeping Morus nigra stands alongside nisperos (loquats), cherries and apricot trees, and in the next, three Robinia pseudoacacia have been long ago grafted on to Wisteria sinensis trunks to create wonderfully twisted and tangled, weeping forms that grace the garden entrance. A tropical blue swimming pool, framed by stands of papyrus, gives the impression of being somewhere else altogether, whilst the backdrop of the Tramuntana gives a spectacular horizon to the picture.
The property sits in its own vineyards, producing excellent wine, which is mainly exported to Switzerland and Germany. After our leisurely visit we were treated to a delightful tasting in the main rose garden of the old bodega. What a marvellous way to spend the morning!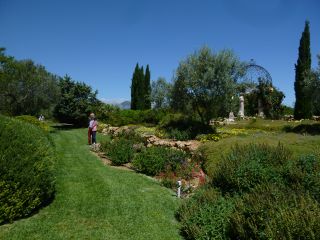 Biniagual gardens looking north

The private chapel at Biniagual
Text and photos by Sally Beale
May 2013
A visit to Can Estel and Son Muda, Felanitx, Mallorca
Although we have visited these two favourite gardens several times, we have not been for nearly two years, so it was interesting to see how much both had developed and grown.
We began in pouring rain at the White Garden, Son Muda, home of Hélène and Christian Lindgens, who kindly showed it to participants at the 2011 AGM. As the skies cleared, we were taken on a wonderful tour of the new developments in the garden by our host and hostess, and we were also treated to a private tour of the sculptures of local artist Pedro Flores, whose work is currently on exhibition in the garden. It was brave of the Lindgens to host us, as they were expecting another 150 people in the afternoon for the vernissage of the sculpture exhibition. As ever, they were generous and hospitable, showing us their new plantings, a new wishing well, and the lawn replacement, made up of neatly clipped creeping rosemary, underplanted amongst the old almond trees, a most effective method of drought-resistant ground cover and greenery. The fields of white convolvulus have been replaced with this same rosemary. And the overall effect is deeply green and calming on the eye. All the white David Austin roses were in full bloom and were shown off to their best advantage after two days of heavy rain. The white gaura fields have matured, and offer a stunning vista from the long swimming pool. Pedro's sculptures framed and complemented the formality of the garden, for example an enormous rusted iron mask with two cut-out eyes offered an interesting perspective on to the new concentric circular maze feature, contained within Buxus hedging. Once this has grown, the maze will come as a complete surprise when you enter from outside.
We spent a very happy couple of hours entranced by the peace and beauty of the design of this garden, which is restful and calming in its simplicity of colour and symmetrical layout.

Rosmarinus officinalis as a lawn substitute

Climbing iceberg rose
After lunch we visited the ever wonderful garden of Professor Hans and Mrs Gritli Liesenhoff, which many members also saw at the 2011 AGM. This garden is now 21 years old and it has matured well, the topiary reaching shoulder height or higher, and the trees, such as Melia azedarach and Pistacia vera, fully mature. The Melia were in full bloom, as were the acres of David Austin roses, mostly pink and blush-coloured, many grown from cuttings taken by Gritli. The natural stream bed, the torrente, was running after the heavy rains, and the white Iris x germanica were blooming in front of the newly constructed serpentine drystone wall feature. There are a number of statues with figures from classical mythology around the garden, as our hostess explained, and we enjoyed hearing her interpretation of why each is placed in its own position as we walked around, Gritli's grand-daughter, Alia, translating her words from the German.

After tea and home-made apple cake, we tottered happily homeward, with our minds full of the sights and smells of this hidden paradise.
May 2013
Branch visit to Costa Blanca
Ten Mallorca branch members met two Menorca branch members at Alicante airport for our first visit to our new sister branch on the Costa Blanca, run by Edith Haeuser. Edith had organised a splendid three-day programme (from 6 to 10 May) in which we took in no less than 11 gardens, and covered large distances in our little bus. The group was mainly Swiss, with a smattering of English, and we divided ourselves between the Parador in Jávea and the local family-run hotel on the beach.
Day 1, Wednesday
After a wonderful welcoming dinner the previous night in a very nice restaurant in Jávea, we headed south past Alicante, to the little town of Elche, founded by the Phoenicians and famous for its thousands of palm trees, mostly Phoenix dactylifera, originally planted for date consumption by the early settlers. This is now a UNESCO World Heritage Site, and justifiably so. We stopped at the Huerto del Cura, or Priest´s garden, established in the 18th century and still in private hands. This is a green oasis in a very hot, dry area of Spain and contains some wonderful species, as well as a palm reputed to be 168 years old. Enormous Euphorbia ingens flourish alongside a myriad of other mediterranean species, and the effect is quite astonishing in the middle of a modern town.

Huerto del Cura, the 168-year-old palm
The next visit was to the amazing garden project of local members Carol and Alan Hawes; the garden is on a hot, flat plain irrigated by unlimited agricultural water provided to them by an ancient system of open channels, or acequias, which run downhill from distribution canals, controlled by a system of gates called compuertas, similar to our sluices in England. This system, which collects water from huge mountain reservoirs, is understood to have been established by the Moors between 711 and 1492. Land is laid out as shallow terraces, which are routinely flooded by opening the compuertas on any given area when needed. The canals run parallel to the River Segura, and rights to water are acquired with parcels of land by historic association. Carol and Alan own one hectare of land divided into narrow terraces, each with its own compuerta into the acequia which runs alongside one side of the terrace. Excess water is taken back to the river by a network of azarbes, as the land does not drain well. As the garden has established, the Hawes use less and less water, and irrigate according to waterwise principles only. They have planted half a hectare of eucalypts for firewood as well as beauty, and have given up most of the former orange orchard. Their entire garden is divided into five continental zones, with plants selected from one continent in each section, Australia, Africa, America, Asia and Europe. This is an astonishingly ambitious project in an inhospitable climate, and we were all impressed with their dedication and hard work.
A beautiful six-course home-made lunch followed at the home of Ana Rodriguez, and then we went sleepily off to visit neighbour Moises Grau next door. Moises and his wife run a casa rural, (a Spanish gîte,) on the site of hisgrandparents' home, and Moises is slowly planting the garden alongside a covered pergola he has constructed in the Moorish style. There are citrus trees, fruit trees of many kinds, including pomegranates, figs, kumquats, loquats and quinces, as well as vegetables, and bergamot. The pergola is planted with many varieties of jasmine, including Jasminum grandiflorum, J. fruticans, J. azoricum, J. laurifolium var. laurifolium (synonym J. nitidum), J. simplicifolium, J. sambac, J. sambac 'Grand Duke of Tuscany', J. simplicifolium subsp. le-ratii, J. polyanthum, J. humile var. revolutum. The scent is astonishing!
We ended our day at the beautiful Moorish Garden in Crevillente. This private garden is 30 years old, and is a sort of miniature Alhambra, a shaded, green paradise with cool corners, tall cypress hedges and secluded seating areas for the enjoyment of mint tea and sweet cakes.
After a very long day, we returned to Jávea, tired, but happy.
Day 2, Thursday
After a visit to the old town of Jávea, we set forth for the north-western region of Costa Blanca.
Our first stop was at Christine Lomer and Nick Brown's iris nursery above Benissa, at an altitude of 500 metres. This is an ancient Moorish agricultural site with a spectacular backdrop of high mountains but unfortunately no natural water and very low rainfall. Over the last ten years, Christine and Nick have planted up acres of Iris species from all over the world, relying on the occasional truckload of water, a little rainfall, and the natural strength of the irises to thrive in a harsh environment. The result is spectacular, with thousands of cultivars from all over the world blooming on the plain, and a new wild flower maze at the end of them. From here bulbs are exported all over the world. It was a wonderful experience for us to come up here and see what can be achieved with so little water, including hundreds of well established David Austin roses, thriving without irrigation.

Iris nursery
Susanne Semjevski's Lavender Gardens in Lliber was next, with a delicious lunch of wild trout, smoked by Susanne, served to us on the terrace overlooking the garden and the mountains beyond. Susanne produces four or five litres of precious lavender oil from her own plants each year, which she sells for medicinal purposes. We were happy wandering around this peaceful haven.
Our day ended with a welcome glass of wine at Edith and Bill's home in Jávea. Their garden is compact and interesting, with well-established avocado trees causing a certain amount of envy among us.
Another lovely, but long day!
Day 3, Friday
This morning we visited the town house of local resident Francisco, who lives with his daughter in a house on a plot he farmed for many years. Francisco looks back on a lifetime of gardening in this area, experimenting with seeds, cuttings and vegetables and fruits, including persimmon, cherimoya and feijoa (the so-called pineapple guava).

Francisco's huerto with Montgó mountain
Local long-time resident Alison Tain was our next hostess. Alison and her husband, artist Michael Tain, started their garden above the village of Jesus Pobre more than twenty-five years ago. The patio is quite formal and structured, with a wild area below the house, filled with Pistacia lentiscus, Cistus clusii, Ophrys sp., helichrysum, roses and acanthus, among many others. This is a place of great soul and beauty, the love of the owner and creator and that of her late husband palpable throughout this lovely place of tranquillity and harmony with nature.
Our last visit was to the Albarda Garden near Dénia. Here owner Enrique Montoliu has created a paradise on his 50,000 square metres. There is an Italian Renaissance Garden, a Valencian Moorish Garden, a Mediterranean forest, a collection of palms in a palm house, a reconstruction of the Montgó mountain complete with endemic flora, and much else besides. One needs hours to spend here; it is a wonderland of taste, style and beauty, elegant and simple at the same time. Here we enjoyed a home-made lunch, made for us by long-time housekeeper Carmen, before heading reluctantly to the airport for our flight home to Mallorca, tired, but triumphant.

Albarda Renaissance Garden

Mosaic detail

Albarda
Many thanks to Edith for such a lovely trip, we all had a wonderful time.