The Victoria Branch of the MGS
Forthcoming Events
For a list of this Branch's Future Events, as well as reports from more recent Past Events, click here.
Past Events
April 2018
A guided garden tour to Lambley Gardens and a visit to Frogmore Garden and Nursery
Despite persistent drizzle, everybody enjoyed David Glenn's guided tour of Lambley Gardens and his own garden around the house. David, who is gregarious, was extremely generous with his time and loved telling us about the plants and how he managed to introduce some of them to Australia. Since we last visited as part of the MGS AGM in 2012, what was then the propagating area has become the main show garden, with many floriferous borders (despite the autumn season and the long dry period) and sculptures and other garden ornaments as focal points. David steered us clear of the area that had previously been the main garden and showroom for desirable dry-climate plants. This area is undergoing a major renovation. We sneaked in after the tour and observed the true survivors of the summer.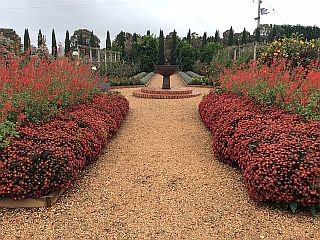 Lambley Gardens – main axis
After a pleasant drive through Daylesford along attractive roads through picturesque villages we arrived at Frogmore Garden and Nursery, Blackwood. The owner gave us a brief presentation (and umbrellas), after which we were free to roam the extensive garden, which has many fine, long and wide borders. Under his tenure he has dug many truck-loads of compost into the clay soil and also added gypsum.
While this is not a drought-tolerant garden, the owner explained that he nevertheless uses only a fraction of his water rights (as does Lambley). The garden features a very wide range of unusual plants, and grasses are used to great effect. The exotic trees were colouring beautifully. They are maturing well, having been planted 17 years ago when the garden was established. Their autumn colours looked stunning against the surrounding mist-covered grey-green forest. If you missed this garden visit, go when it is next open in March and April next year (check the website) – the nursery is open all year.

Frogmore - one of the borders against the native forest backdrop
March 2017
Visit to the Dandenong Ranges
The landscapes and vistas of the Dandenongs were sparkling in early autumn sunshine as visitors assembled at the first of two gardens. Visitors were most impressed by Isabel's impressive variety of plants. Her fine drift of cyclamens was most impressive. After enjoying the panoramic views from the ridge to both the mountains in the north and the bays to the south, we moved to Julia Catton's young garden to appreciate the changes since our last visit. An extended shared lunch on the patio of Julia's and Takis' house was enjoyed by all. A special highlight was Takis's home-made spanakopita and galaktoboureko. Particularly notable was that we were blessed by having both the President (Caroline Davies) and the Secretary (Vivien Psaropoulou) of the MGS at this event.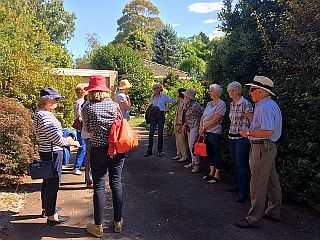 Members deep in conversation at Isabel's Garden -
MGS President sixth from right, MGS Secretary left
Attila Kapitany's Garden
MGS members have visited this garden on several occasions and it is often open to the public. Attila is the expert on Australian succulents, having published a book on them. His passion is for all succulents, not just Australian, and his garden reflects this. His garden is a good demonstration of how useful and versatile succulents can be.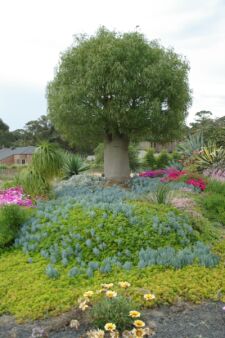 Brachychiton rupestris in a sea of Senecio serpens and
Mesembryanthemum cordifolium (syn. Aptenia cordifolia)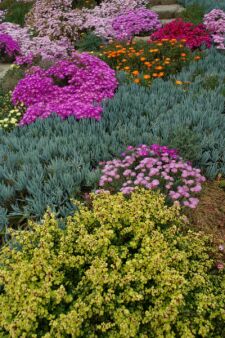 A river of Senecio serpens snakes its way through the garden beds
---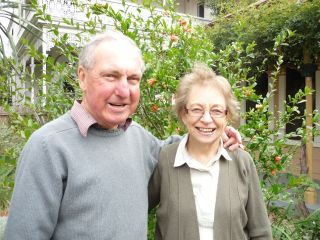 Malcolm is a retired accountant with an interest in gardens and gardening, inspired by his wife, Fran and her knowledge of and interest in plants, landscape design and history. They have been members of the MGS for 13 years. They were active in assisting Kaye Stokes organise the Melbourne leg of the recent Annual General Meeting of the MGS. They have also been active members of the Australian Garden History Society for 30 years, of which Malcolm has been treasurer and Fran is a current committee member. Fran and Malcolm organise and take part in a working bees programme on historic gardens that cannot have the labour to maintain them in anything like the style of when they were created 100 years ago.