My Gardening Experience
by Anna Afleck
photographs by Anna Afleck
Photographs to illustrate the article published in The Mediterranean Garden No. 89, July 2017
Anna Affleck writes of her gardening experience in two remarkable gardens in Victoria, Australia.
The first was a monumental garden of six acres of old trees, sweeping lawns and spring bulbs which she restored and replanted using drought-resistant plants over a period of more than twenty years.
The second garden, illustrated here, where Anna has gardened since 2005, was a greater challenge as far as the environmental conditions are concerned.
Anna writes: The house is about 600 metres from the cliff tops; it is wild and windy but breathtakingly beautiful. Gardening would not be on many people's radar, trying to compete with the elements in this part of the world, but we are enjoying the challenge. Coprosoma repens, native to New Zealand seashores, grows like a weed (and is regarded as a weed) but I decided to embrace it and use it to make hedges around the garden in an attempt to develop a little microclimate away from the fierce salt-laden winds we constantly receive. I have hedged successfully with it and even espaliered it in areas along the paling fence, growing a sweet little white-flowering geranium throughout which gives a jasmine-like effect. I love jasmine but it would never survive in our harsh environment. I have used cotyledon as a border plant beneath the rich green, and the contrast is stunning: very simple, but terribly effective.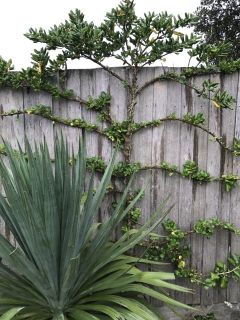 The 'weedy' NewZealander Coprosoma repens espaliered on a fence and Yucca filamentosa
Other salt-loving plants which I have successfully used for topiary or hedges include elaeagnus, salt bush, helichrysum, senecio, podalyria, westringia and correa.
A thick border along the fence including Echium, salt bush and Elaeagnus

Helichrysum clipped and left free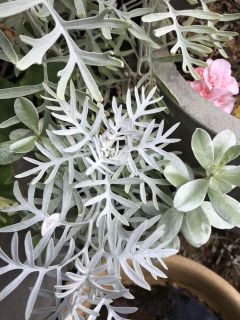 Senecio, Podalyria and geranium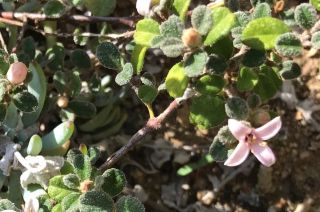 A pink Correa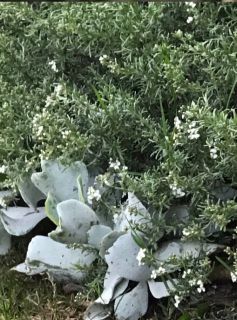 Cotelydon at the base of a Westringia fruticosa hedge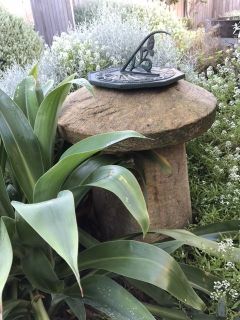 Sundial with Arthropodium leaves
I have planted Yucca filamentosa, arthopodium, teucrium, eremophila, sage, kangaroo paws (Anigozanthos species), agave and many little succulents to soften edges and gravelled areas. Cardoons, artichokes, kale, spinach, echium, silver-leaved gazanias with pale pink and cream flowers, broom and brugmansia are also growing successfully. Under the brugmansia, I grow sweet-peas, eremophila, lilies and sage.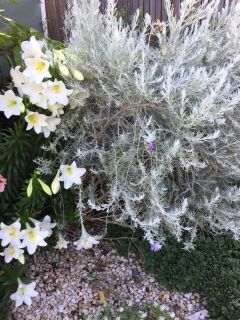 Eremophila nivea
I have pieces of copper sculpture throughout the garden and I love the silvery cushion bush (Leucophyta brownii) dotted nearby as I find the colours work well together, as do the few stone bird-baths I have surrounded with decorative succulent varieties of echeveria.
Old bench sheltered by the hedges with a copper sculpture and stone bird bath.
Pachystegia insignis, the Marlborough Daisy from New Zealand, looks stunning planted at the base of a large copper bowl, interplanted with aeoniums. Banksia integrifolia is a beautiful native tree and we have planted several throughout the garden. We keep the leaves trimmed and the canopies have turned into wonderful large balls. The birds adore the flowers and we have gathered together a happy community of feathered friends, particularly superb fairy-wrens and honeyeaters. Xanthorrhoea (the Australian grass tree) has a sculptural effect in old stone urns with succulents planted at the roots and mingling happily throughout.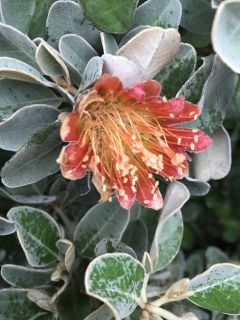 Diplolaena grandiflora