Annual General Meeting 2016: Three Days in Corfu
by Helena Wiesner
photographs by Antigone Diacakis
Photographs to illustrate the article published in The Mediterranean Garden No 87, January 2017
The west coast of Greece is noticeably wetter than the rest of central and southern Greece and thus the Ionian Islands of the west coast, while scorching in the summer, are known for their damp and humid winter climate and relatively lush green landscape. Corfu being the most northerly of them is the wettest and lushest.
The post-AGM excursion to Corfu took in a lot of gardens.
Helena writes: Our visit, organised so well by Victoria Martini, was so full and varied that it felt more like a week than a bare three days.
A visit to the Gastouri Estate, home of past MGS President, Cali Doxiadis, was one highlight.
Helena writes: The estate includes a working vineyard and olive orchard, a citrus grove, an orchard and a vegetable garden, as well as the ornamental gardens that Cali has laid out around the house. There are also extensive wild areas, where paths are cleared but little is done to interfere with the cypress, oak and maquis where wild flowers flourish. For a cyclamen grower and lover such as myself, it was magical to wander along these paths through drifts of pink, or spot them tucked into an ancient tree trunk, with an occasional creamy-white Crocus boryi for contrast. From the garden, there are fine views to the sea and the mainland beyond.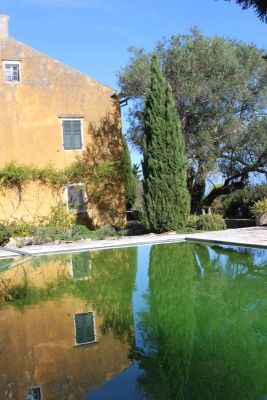 The 18th century house at Gastouri reflected in the pool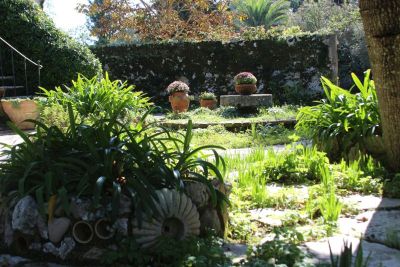 The courtyard at Gastouri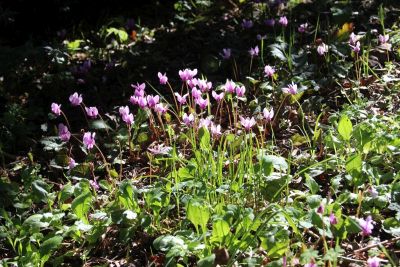 Cyclamen hederifolium rampant in fields and groves
Past garden assistants to Sally Razelou at the MGS garden at Sparoza, Jennifer Gay and Piers Goldson, are now working as garden designers throughout Greece and are responsible for the gardens at the holiday village of Rou.
Helena writes: Rou is an extraordinary place. Built some 200 years ago, this collection of derelict quarry workers' cottages was discovered, abandoned, some eight years ago by a British architect Dominic Skinner and his Dutch wife Claire. They fell in love with it, bought it and have fully restored the 15 houses, dry-stone terraces and other hard landscaping. And with great foresight, Jennifer Gay and Piers Goldson (Sparoza 'graduates') were involved with creating the gardens from the start of the restoration. In the less formal areas, they used the existing trees and shrubs to form the framework of the gardens which so closely embrace the cottages on their hillside. The native shrubby Valonia oaks (Quercus ithaburensis subsp. macrolepis), mock privet, mastic and cypress have been left in place with their accompanying honeysuckle and clematis, but carefully trimmed and pruned to make for winding walks through woodland glades and past old stone walls, with cyclamen again peeping out from nooks and crannies and other wild flowers beginning to emerge.
Around the houses and the shared village spaces where more formal planting was required, Jennifer and Piers aimed for native or other mediterranean-climate plants, drought-tolerant and able to take some winter cold, and in colours and forms that would enhance the creamy colour of the stonework. Interestingly and very effectively, they used a relatively restricted range of plants throughout the extensive planting, but varied the mix in any particular part of the garden. So we saw jasmine and wisteria, agapanthus, rosemary, lavender, trachelospermum, plumbago, campsis and terebinth in various combinations, with Tulbaghia violacea (which loves the Corfu climate) as a recurring accent. Perhaps most striking was a lovely climbing white rose which carries your eye from point to point in the village (blooms were even floating in a lovely stone trough near the entrance). This was named as 'Iceberg' – or 'Schneewittchen' – but seems more likely to be one of the various more or less climbing sports which have arisen from that famous floribunda; if so, it's certainly one of the best.
We saw here the first – and perhaps the best – example of closely trimmed lavender and rosemary forming dense and shaped masses in borders and along paths. We were told that trimming is needed roughly once a month (apart from flowering time) to achieve this perfection at Rou, and even so the plants eventually become too leggy and have to be replaced. Such frequent trimming may defeat many of us who are not in our Mediterranean homes permanently, but it creates such a striking display that it's definitely worth a try.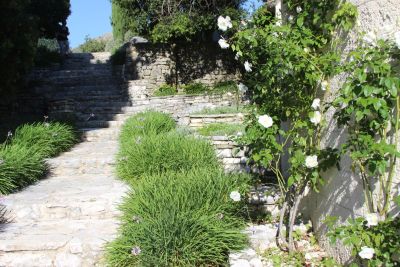 Wide stone steps lined with Tulbaghia violacea and the white rose climbing up the wall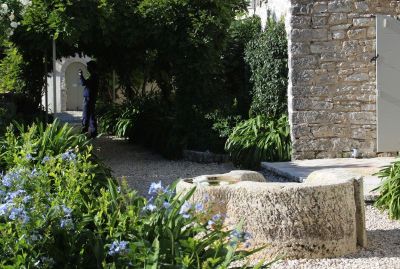 A gravel path with an interesting stone object backed by Plumbago and Agapanthus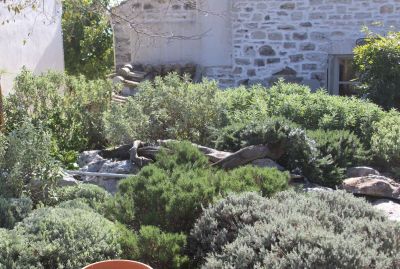 A deceptively simple planting of Mediterranean plants in varying shades of green and grey
A luxurious hill-top villa, Sto Dassos, has an interesting steep garden.
Helena writes: The site for this house and garden, very steep hillside with rough vegetation, was a tough one. Work started in 2003 and, as with the developments at Rou, Alithea Johns was involved in the planning of the garden from the very start, which proved an enormous advantage. The rock from the excavations was used for the extensive hard landscaping (four stone terraces, for example), paths and the like. To plan the winding paths in the hillside, rather than sit in an office with a sheet of paper, Alithea walked the walk, marking and mapping in situ to avoid any feature trees or rocks and to wend gently down the steep slope. All of the cypresses and olives we saw as we strolled those paths were newly planted: hard to believe given how embedded they seemed in their surroundings. Once again we saw trimmed rosemary – this time done with a hedge trimmer which undoubtedly saves time but may not produce quite as polished a finish as hand-snipping. Lavender featured too, agapanthus surrounded olive trees, and we were treated to the delicious fruit of Natal plum (Carissa macrocarpa). Maintaining this very extensive hillside garden is a challenge which is met well by using tough and drought-tolerant shrubs, combined with a natural look in the woodland areas.
One of the paths wending down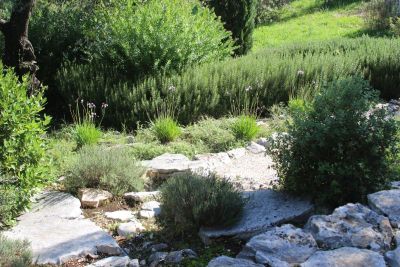 The start of a path with Tulbaghia and rosemary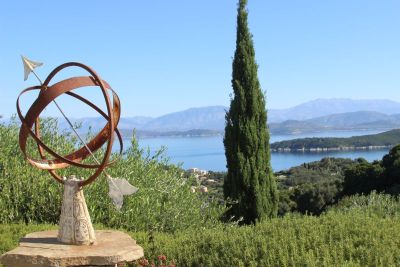 At Strongylo the vanishing edge pool with billowing clipped rosemaries is startling and the three-legged table with pots of cactus amusing.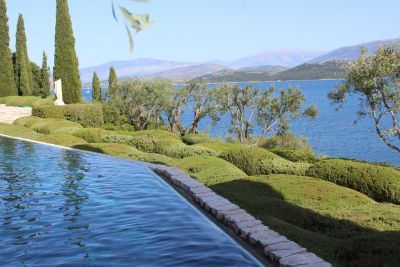 The edge of the vanishing edge pool reveals clipped waves of rosemary
When the legs are tree trunks a table only needs three. Potted cactus silhouetted by the mountains of Albania