Designing
and Working with the Natural Landscape in Crete
Captions and photos by Valerie Whittington
For the full text of this article see The Mediterranean Garden No 63, January 2011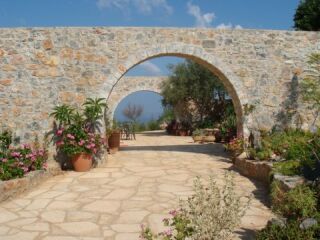 Approaching the avli (courtyard) through traditional Cretan arches with
a view towards the sea. The Plumeria rubra f. acutifolia in the pot on
the left-hand side is has now been transplanted into the ground and is doing well.

Interplanting with the natural flora. For example, Chamaerops humilis,
Lavandula dentata among naturalised Phlomis cretica and Euphorbia characias.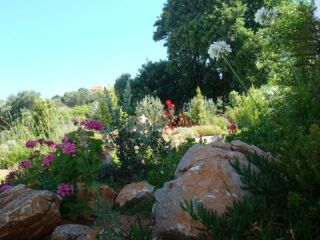 Using excavated stone for rockeries and cuttings to create planting 'pockets'.
Plants in the foreground include Carpobrotus edulis, Crassula arborescens, Pyracantha
angustifolia, Metrosideros excelsa, Agapanthus and valerian or Centranthus ruber.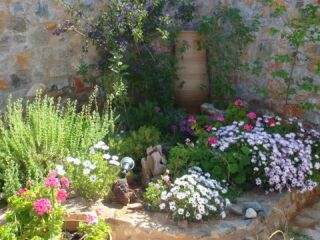 Inside the avli with Cretan pot. Plants include Morus alba 'Pendula', Osteospermum
fruticosum, pelargonium, Crassula arborescens, oregano and Solanum jasminoides.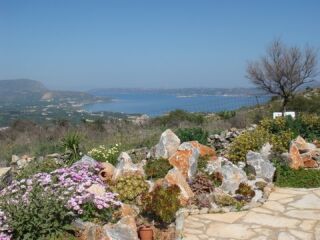 Dry rockery with succulents: Aeonium arboreum, Echeveria elegans,
Echeveria pulvinata, Graptopetalum paraguayense, Graptoveria
'Fred Ives' and Aptenia cordifolia. Also self-seeded Osteospermum
fruticosum, Verbascum and Phlomis.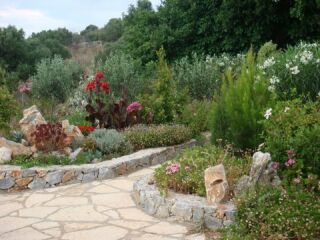 Creating different levels and providing a screen from the lane: Planting
includes Nerium oleander, Eugenia, Grevillea rosmarinifolia, Eriobotrya
japonica, an olive(Kalamata variety), Albizia julibrissin (from seed).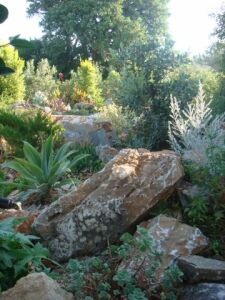 The First Rockery. Plants in the foreground:
Aeonium haworthii, Ricinus communis, Agave
attenuata, Carpobrotus edulis, Osteospermum
fruticosum, Metrosideros excelsa, Centranthus
ruber and Eremophila nivea.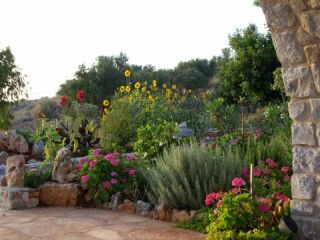 Summertime through the arch from the avli showing my favourite indulgences,
cannas and sunflowers. Plants include Aptenia cordifolia, Rosmarinus officinalis
and R. officinalis var. repens, Pelargonium zonale, Lavandula angustifolia, Laurus nobilis,
Hibiscus syriacus, Eriobotrya japonica, Nerium oleander, Osteospermum fruticosum,
Brugmansia arborea, Helianthus annuus, Canna indica with a large Ceratonia siliqua
in the background, 'borrowed' from outside our boundary, in the lane.