» Home
» About
» Membership
» Journal
» Sparoza Garden
» Branches
» MGS Forum
» Seed Exchange
» Donations
» MGS Excursions
» Information
» Members' Gardens
» Book Reviews
» News & Views
» Contact
» Search
Gardening in the shade of the Pyramid
by Duncan Thomas
photographs by Duncan Thomas and Cali Doxiadis
Duncan Thomas describes his time working to restore Il cimitero degli acattolici al Testaccio, also known as the The Protestant Cemetery or The Cemetery of Poets and Artists in Rome. As well as housing one of Rome's famous landmarks, the Cestius pyramid, reputedly the tomb of Caius Cestius, built in around 20 BC it is also the the resting place of Keats, Shelley, Wordsworth's grandson and other personalities involved in the Romantic movement.

He writes:
"The first burial in the cemetery was in 1738 with subsequent burials taking place in the parte antica or 'ancient part' until the 1820s, after which this area was closed and the "zones" in the cemetery proper started to fill up with hundreds of different memorials. It was fairly obvious, though, that there were themes relating to the context of the burials. After some deliberation we decided that these were the Romantic (the parte antica), the Victoriana (the older part of the zona vecchia) and the Statuesque (the area at the entrance)."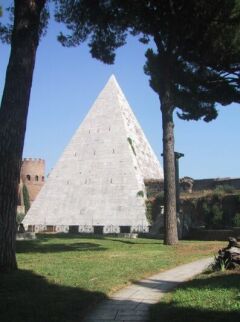 The pyramid of Caius Cestius.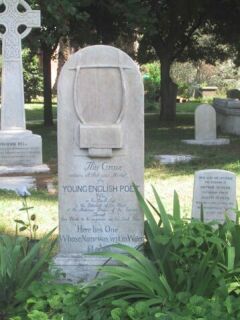 The grave of John Keats in the parte antica, bearing
not his name but the words the poet himself desired:
"Here lies One Whose Name was writ in Water".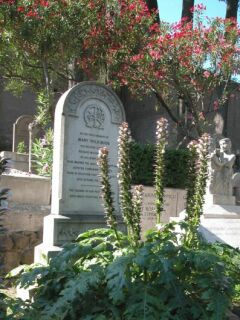 The statuesque part of the cemetery.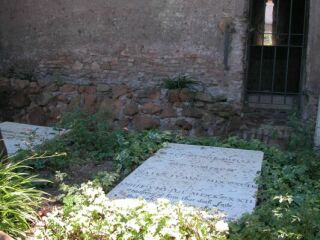 The grave of Percy Bysshe Shelley, inscribed with lines from The Tempest:
"Nothing of him that doth fade
But doth suffer a sea change
Into something rich and strange" .