Water flowing through time
When Michelle Thomasson rented an allotment (huerto) in her village of Huétor Vega near Granada, Spain she was introduced to a centuries-old system of irrigation.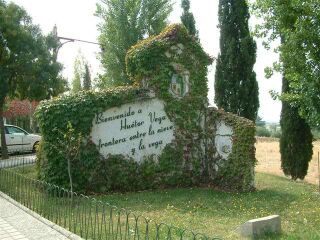 The entrance to the village.

A typical village allotment.
Michelle Thomasson writes:
"Rafael showed me how to water the land. First, the furrows that were not to be watered had to be blocked at their entrance with heaps of soil, while if any of the planted furrows needed an extra soaking, the water's advance could be slowed by smaller heaps of soil in the dip of each furrow. When all was ready, three small sluice gates were opened; it was then that I realised I was being shown techniques that had been passed down through many generations."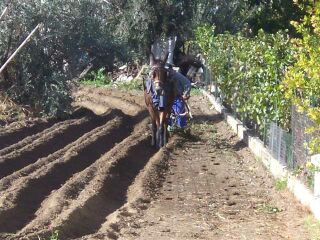 Ploughing the furrows.

Regulating the water flow.
"The acequia (irrigation channel) that I used is called the Acequia del Zute which runs its 1,630m course from a larger irrigation channel known as the Acequia de la Estrella. Some of the horticultural land has since been taken over by asphalt but before it disappeared the Acequia del Zute was used to water approximately 20 hectares of land."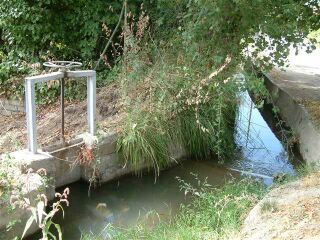 The irrigation channel, Acequia del Zute, showing the sluice gate.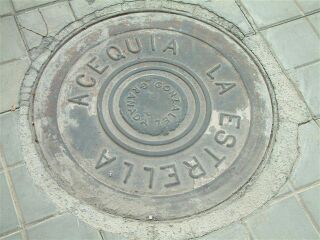 The larger irrigation channel, Acequia de la Estrell, under concrete.
"The only river into the village, Rio Monachil, flows from the Sierra Nevada mountains; when you look up along this river valley, the many huertos that are dotted along the fluvial terraces provide a verdant scene that has become ever more precious. It is still so green because it is a living tribute to hydraulic skills that began more than a thousand years ago. The sluices I had opened that brought water from the Acequia del Zute were made by the Moors probably no later than the twelfth century..... One of the five irrigation channels ran through the upper hills of the village. It was named Acecolilla and had a history that began with the Romans, who built a Roman bridge to carry the channel over a gulley (Barranco de la Culebra) across the eastern slopes."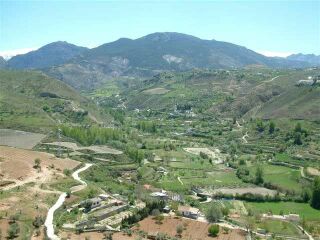 The valley of Rio Monachil in April.

A very dry Barranco de la Culebra in October.
"In the areas of soil that could not be reached by irrigation, the land was often not used unless absolutely necessary. However, crops such as vines, which were probably introduced by the Romans, were planted on the drier hillsides to produce table grapes, currants and vinegar. In the village this is still practised today, and a delicious local wine is also produced."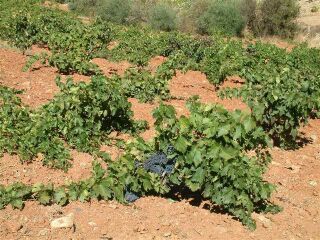 Grape vines growing without irrigation.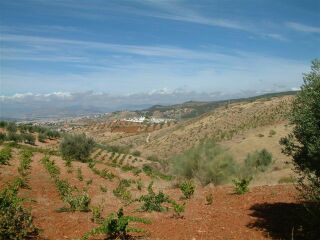 Vineyards on the Huétor hills which face west.